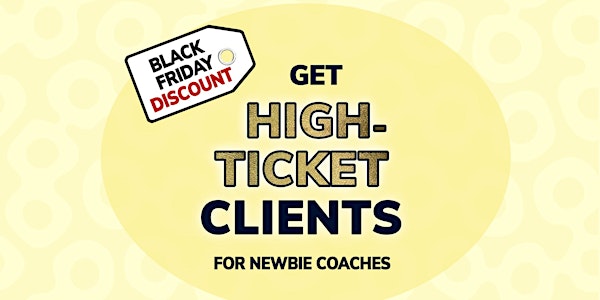 2-DAY WORKSHOP: How To Get High-Ticket Clients Even As A Newbie Coach
Refund policy
Contact the organizer to request a refund.
Eventbrite's fee is nonrefundable.
What if there is a very simple but powerful strategy to get high-ticket coaching clients - reliably & consistently - even as a newbie coach?
About this event
Special Black Friday Offer - 85% off the regular price!
Ever thought about starting your own coaching business and then all the stuff came up like...
"That's not possible!...."
"I need to first grow my Instagram...."
"....then I have to start selling $30 things...."
"...then I need to get more qualifications...!"
Ahh... that voices in our heads...
Here is our question:
Have you ever seen someone less qualified get paid 10x more than you?
We know, it sucks...
It happens to all of us.
Turns out...
Your success, ease, and monthly revenue as a coach have little to do with qualifications or steps we "have to" do...
The REAL thing that moves the needle is...
...how good your marketing is.
It's what shifts the odds...
And in our personal opinion, it's time the dedicated coaches struggling out there get a huge piece of that pie.
That's why we- that's my mum and I- have put together a 2-day workshop.
It'd be $300 (and you'll get a huge 87% discount with our Black Friday Offer), and we'd show you what we normally only show our super high-ticket clients:
> How To Get High Ticket Clients As A Newbie Coach.
... Without a website
... Without a following.
... Without an email list.
... Without any testimonials yet.
If all this sounds terrible- then this is not for you!
We just did this ourselves and we brought $37,000 in contracts in, starting from 0 in a new niche - inside of 9 weeks.
Or like one of our clients, who just brought in $45,000 even though she never sold anything higher than $100 in her spiritual praxis.
READY TO LEARN HOW TO DO HIGH TICKET MARKETING FOR COACHES?