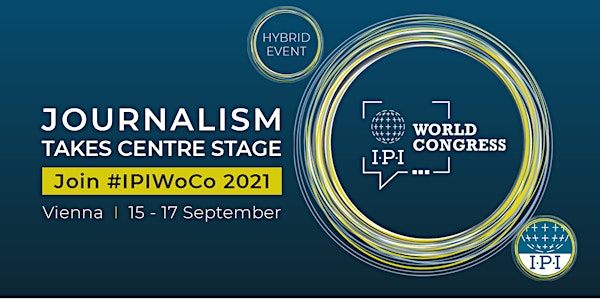 2021 IPI World Congress - HYBRID
Join us in Vienna or join us online: It's a hybrid - some face to face, some online and some a mix of the two.
Refund Policy
Contact the organiser to request a refund.
About this event
Join the conversation about how we advance, protect and sustain a journalism that lights up the world with its power of storytelling. The World Congress of the IPI global network is more than a conference. We're a movement for journalism.
We'll journey beyond the noise to the heart of what matters: journalism that informs our communities, makes sense of the world we live in, and holds power to account. For journalism to thrive we need to secure the infrastructure that supports it:
Stories you can trust: the best of journalism in the (dis)information age – from around the world and around the corner.
A media business that sustains us: understanding our audience and the opportunities technology offers to deliver journalism and news products that delight and serve our communities.
The rights that let us do our job: press freedom, safety and a democratic media environment, all of which are under threat globally.