Dieses Event ist beendet.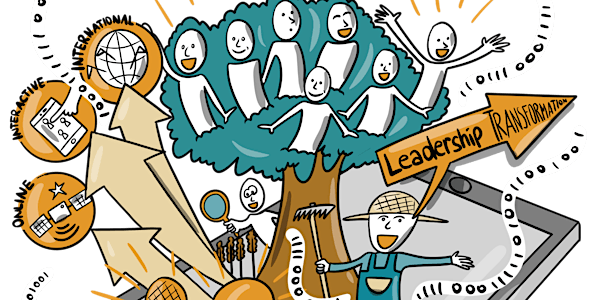 21 Days Leadership Transformation Challenge - Info Workshop
Veranstaltungsort
Online-Event
Rückerstattungsrichtlinie
Der Ticketverkauf ist beendet
Der Ticketverkauf ist beendet
We are looking forward to your participation! Prepare yourself by some good time before the live event starts - all input will remain easier in your system Remember that you will need no more than 30 min daily to keep track for this course. Look forward wo a rewarding experience for yourself if you keep up with this. Our feedback so far is that specially in stressful times it pays off to invest some quality time for yourself every day. Looking forward to our time together Karola from Future Skills Farming
Inspiration & Future Skills: Courage, Confidence and Trust, Basic Skills for Future Leaders?! | Things you do not learn in Business School
Zu diesem Event
What - Info Workshop on
- 21 Days Challenge Leadership Transformation
- Hands on - Daring to Think & Lead Differently
- New Ways of Learning
Future Skills 21 Day Leadership Challenge is a program that focuses on developing future skills. This takes place in the areas of future-oriented thinking, acting and leadership. This requires change and development. Have an insight on what this program is about!
WHY 21 DAYS
Change takes, in the first step, 21 days to be anchored in the human system.
In order to consolidate everything if necessary, we have developed 2 more programs, because the consolidation of change needs up to 63 days - but more about that later, now it is about the first steps
MUTIG MENSCHSEIN – BEING BOLDLY HUMAN
Being Boldy Human is the term for the central knowledge and skills of Future Skills Farmers, leaders who shape the future and develop success from it. They accompany themselves and other people - their employees or colleagues - on a journey. In doing so, they create an environment that enables them to use human potential and thus to create a gentle culture of change out of a natural development: away from the struggle to be the best, towards "creating the best possible together". A form of high performance that encourages, causes and is a catalyst for success.
THE HOST
Karola Sakotnik is a leadership expert for innovation, future and culture. She is a transformation pilot, stage performance coach and mastermind of Learning Projects. She has not only developed and founded Future Skills Farming, she is also professionally trained as a presenter and host of talk shows in addition to her Ledaership expertise. This is why this program has a high inspirational power - and it is well known that inspiration is the most sustainable trigger for learning and change (according to Prof. Gerald Hüther)
WHY
For you as a participant, there is an opportunity to rethink your own approach to work, to supplement your activities in the field of "leadership" with new aspects and to work on yourself. All this to be successful in the market in the future, to develop innovation and new ideas and bring them to the ground.
1h of Introduction: HOW DOES THIS PROGRAMME HAPPEN?
You reserve a total of 10.5 hours within 21 days for your development
The 21 Day Leadership Challenge takes place daily for 21 days
The daily effort is about 30 min
Twice a week we meet online live, for input and exchange
IMPORTANT NOTE: This is conceptualized to have room even in a 60 hour work week
Even more - it is important to complete the tasks during the daily work routine,
timewise in form of a "meeting with myself
WHAT YOU GET - NEW WAYS OF LEARNING PLUS "DO IT AT YOUR OWN PACE"
You will receive an email four times a week, you get tasks for 4 days, twise a week we meet online and live, Sunday is free. The inputs and to dos are either
Inspirations by video
Thoughts for reflection
an exercise
a small task
all will be documented in your personal offline journal
you decide what you want to share
LIVE ONLINE MEETING – TWICE A WEEK "COFFEE AFTER LUNCH"
The programme start at selected dates when there are more than 4 aprticipants. not only with self study yet, there are two weekly online live encounters - Wednesday and Monday at 13.30 CET for a coffee after the lunch break. The time required: Input 30 min plus exchange 15-30 min - max 1 hour each
Coffee after Lunch | Wednesday | the beginning of each new cycle:
Week 1: Seeding
Week 2: Growing
Week 3: Harvesting
Coffee after Lunch | Monday | Skills Day:
Week 1: the inner coach
Week 2: Mindfulness and intuition
Week 3: Creativity techniques and associations