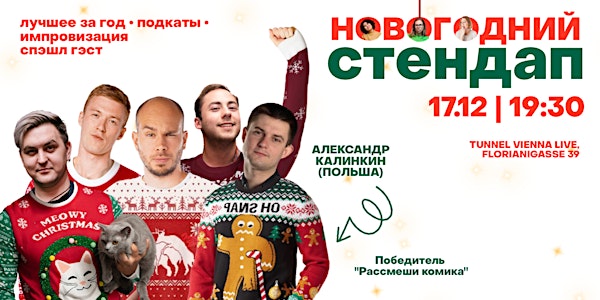 Большой новогодний стендап в Вене!
Заключительный стенд ап концерт года - будет жарко!
When and where
Location
Tunnel Vienna Live 39 Florianigasse 1080 Wien Austria
Refund Policy
Contact the organizer to request a refund.
About this event
2022 год подходит к концу, поэтому в честь приближающихся праздников мы делаем БОЛЬШОЙ НОВОГОДНИЙ СТЕНДАП, где будет ВСЕ: лучшие шутки, подкаты, импровизация, конкурсы, блэк джек, простит.. Ладно, не совсем все. Но будет очень круто!
Хэдлайнером в этот раз будет очень смешной комик из Польши - Саша Калинкин, сценарист и победитель "Россмеши комика"!
Количество билетов ограничено, так что не щелкайте клювом!
Часть средств пойдет на гуманитарную. помощь Украине. Вход для граждан Украины с "Голубой картой" или другим документом, подтверждающим "статус защиты" - бесплатный! Количество бесплатных билетов ограничено, регистрация обязательна (см.ниже)!
Важная информация о мероприятии:
✅Где: Клуб Tunnel Vienna Live, Florianigasse 39
✅Когда: 17.12.2022 (суббота), начало в 19.30. Окончание - примерно в 22.00
✅Стоимость билета:
-10 евро при покупке или брони до 10.12
-13 евро после 10.12
Возможна оплата онлайн или на входе при предварительной брони.
ПРИОБРИТАЙТЕ ИЛИ БРОНИРУЙТЕ БИЛЕТЫ ЗАРАНЕЕ!
✅В зале действует свободный выбор мест. Столики в зале рассчитаны на 4 человека
✅Купить билеты (места за столом) - по ссылке или на входе (при условии предварительного бронирования).
✅ ВАЖНО - бронь билета не означает бронь конкретного места! Зарезервировать конкретные места или целый столик можно по телефону +436763546656.
✅ В случае отмены концерта - 100% гарантия возврата денег!
По вопросам брони или резервирования конкретных мест (столиков) и др: +43 676 354 66 56 (Дмитрий)
Бронь снимается в 19.15 БЕЗ ИСКЛЮЧЕНИЙ!!! Пожалуйста, приходите вовремя!!!