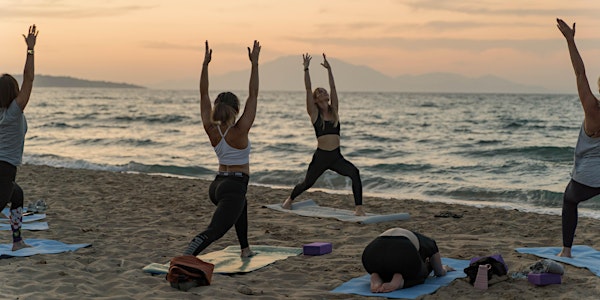 7 Day Beach Yoga Retreat & Meditation in Zakynthos Greece - Book Retreats
7 Day Beach Yoga Retreat & Meditation in Zakynthos Greece
When and where
Location
Stamiri S.A. Stamiri S.A. 291 00 Ano Vasilikos Greece
Refund Policy
Contact the organiser to request a refund.
Eventbrite's fee is nonrefundable.
About this event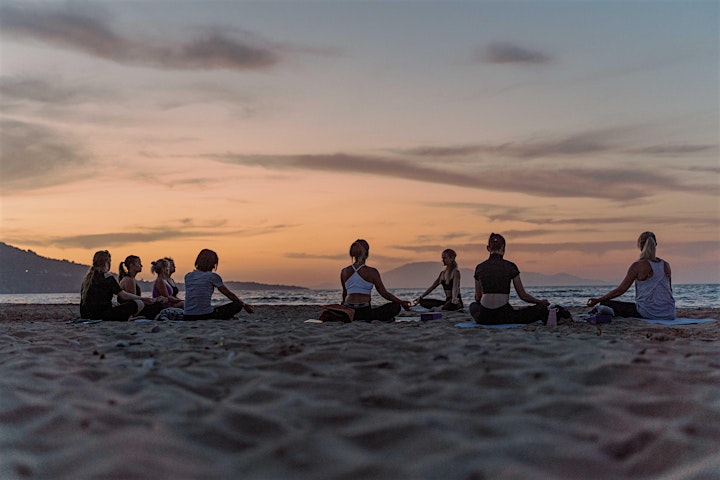 The SWYO Relax and Renew Wellness Holiday with Yoga retreat in Zakynthos is a beautiful relaxing and regenerating experience that features beautiful holistic sunrise flow yoga practices on the beach, yoga workouts, yogalates, meditation and plant based food is hosted at the fabulous Stamiris Beach Hotel in Vasilikos, island of Zakynthos, Greece.
Prices from
Triple Room Share 490 Euros
Twin Room Share 640 Euros
Private double room 840 Euros
This retreat is open to all, no matter your experience. Whether you are a beginner or an experienced yogi, you will have a profound and wonderful community based yoga experience at this beautiful Beach retreat in Zakynthos.
Another aim of the retreat is to help you with your weight goals. By creating heathy food and exercise habits would help the body to release excess toxins and weight.
As the food we consume and the way we move becomes our life, during the retreat you can experience healthy plant-based foods and activities that help you to discover long term healthy lifestyle habits.
Allow yourself the opportunity to slow down and get back into balance with sunshine, walks, yoga, meditation, make friends and detox. By the end of your 6 day / 5 night retreat you will feel refreshed and rejuvenated.
We offer guests from all over the world a relaxing unforgettable retreat experience in our quiet and welcoming retreats. SWYO Retreats offers a holistic approach to health and wellbeing through our programme of activities that include yoga, fitness, meditation, rebounding and more, combined with tasty nutritious plant-based food.
You will be able to relax and practice yoga at the beach or on the poolside of the hotel overlooking the Mediterranean Ionian sea while appreciating the breathtaking scenic views from the surrounding crystal clear sea and wind down with glorious sunset walks on the beach.
Imagine starting your refreshing yoga retreat with a morning sunrise yoga on the beach with views of the sea and mountains. Enjoy a healthy breakfast before joining in a workout sessions, meditation, taking a walk or maybe relaxing on your sunbed with a good book.
You can try yoga workout, yogalates or workshop session before enjoying a delicious plant-based lunch. After some free time to wonder around the local area or to catch some sun-rays, you can choose to participate in the afternoon activities, or rest around the pool. All activities are optional so you can do as much or as little as you want. Find the inner peace and leave feeling refreshed, rejuvenated and more like you.
SWYO Retreats programme
The retreat offers a full programme of activities that run every day of the retreat, starting at 7am ( depending on sunrise ) and finishing between 8.30pm or 9pm (depending upon the activity). You are welcome to choose to attend all the activities that you want to.
If you are looking for some time away to practice yoga in a beautiful seaside location, then this is the place for you!
With over 10 yoga classes across the retreat program plus many other activities on the program including magnificent guided walks, yoga workouts, Kundalini meditation to help you to relax, and morning meditation sessions, you will soon feel refreshed and rejuvenated. After your yoga break, you will feel refreshed and centred, back to the real you once again.
Yoga
Yoga is a core part of the retreat program, and we welcome beginners and people with an intermediate level of practice. Studies have proven yoga to be one of the best ways to reduce stress, lower blood pressure and relieve symptoms such as insomnia, depression and anxiety. Yoga also helps to improve overall fitness, strength, and flexibility.
Yoga classes at SWYO
There are two to three yoga classes per day. There is one all-levels yoga class each day (suitable for beginners and intermediate level practitioners) and at least four intermediate classes during the retreat. Classes are open to everyone however the intermediate classes are stronger and more challenging. There is always one 90 minutes class in the morning and other yoga classes are either 60 or 90 minutes depending upon the day.
Most of the yoga classes are Vinyasa flow based ( Dynamic ) , although Diana offer a range of different yoga styles, including Yin, Restorative and Kundalini. If you are new to yoga, this is your opportunity to try something new! The common theme underlying yoga at the retreat is to help you to get back in touch with the inner you, to find balance, strength, flexibility and inner peace.
Where possible, the yoga classes are held outdoors on the beach (which has retractable shade) with views of the surrounding area, sea and mountains. We also have a lovely indoor terrace are practice. You will leave your short yoga break feeling relaxed and rejuvenated from your time at the retreat.
Daily guided walks
Our retreat location by the sea and close to woodland makes the surrounding area a great one to explore, enjoy the scenery, sea and fresh air. We encourages all guests to join with the daily guided walks, which gives you some of the very best views on the Zakynthos. Various routes can be followed depending upon your desired level of activity.
Other activities
Each day there are other classes that you can take part in, like yoga-lates (a combination of yoga and pilates), yoga workout ( dynamic high paced yoga workout for tums and bums )
Yoga community
Perfect opportunity to make lifelong friendships with other likeminded, positive and supportive community.
Highlights
7 days of yoga, and fitness / workout practice
2 yoga classes per day
1 yoga full body workout / yogalates session per day.
Daily guided meditation sessions.
Sunrise beach yoga sessions.
Sunset yoga / meditation on the beach.
Walks, hikes and the opportunity to discover the different nearby beaches.
6 nights accommodation at a beach side hotel with pool.
Breakfast and Dinner provided
Assisted self yoga practice.
Certified yoga instructor
Free time for your own personal activity
24 hour access to the beach side pool with a view to relax and renew.
6 night / 7 days of accommodation
Location
The retreat is located in fabulous Stamiris Beach Hotel in the small seaside town of Vassilikos, island of Zakynthos in Greece. The town itself is relatively quiet, surrounded by white mountains and has an unhurried air; perfect for relaxation. We are located off the main road, up a quiet side of the beach. Shops and cafes are also close by in case you forget to bring something!
The coastline is beautiful, with mediterranean blue sea and a back drop of mountains. It is a lovely place to relax and swim. There is lovely cafes and restaurants on the beachside within walking distance to grab a coffee or read a book while sunbathing.
Zante is just few kilometres away, the town is beautiful and vibrant, with restaurants and cafes. The history of Zante goes back to the ancient greek times.
Since the retreat is on the edge of the beach, there are plenty of outdoor activities you can take part in. Bring plenty of sun cream, a snorkeling kit, and sunglasses with you.
-Distances to nearby stunning beaches
*Palka Beach, 500 meters
*Spanzia Beach, 750 meters
*Porto Zorro Beach, 1 kilometer
*Porto Roma Beach, 2.5 kilometers
*Turtle Beach, 3 kilometers
The walk through pine and olive trees to catch the sunset on the beach is one of my favourite activities of the day.
Accommodation
At Stamiris Beach Hotel, they offer spacious en-suite rooms, decorated in a light traditional Greek style, balcony with sea / garden view with beachside pool area, with sunbathing facilities. There are different types of accommodation that you can choose from to fit your budget and personal choice.
Every room includes a balcony, seating area, with air conditioning to keep you cool, plus a table and a mini fridge. This is a small area on the balcony with a table and chairs, plus an ensuite bathroom. There are blackout curtains at the windows to help you get a good nights sleep.
The accommodation is situated in two buildings. All rooms have free access to Wi-Fi internet. Rooms are cleaned daily. All rooms include air-conditioning for the hot summer months.
You can choose from three types of accommodation:
Private Room
If you like to have your own space, you can choose to have your own private charming room. These rooms have their own en-suite bathroom, with outdoor balcony area with sea / garden view.
Twin room share
You could choose to share one of our charming twin-share rooms, with one other person. These rooms have been arranged to make the space suitable for social distancing. There are two single beds. These rooms have their own en-suite bathroom, with outdoor balcony area with sea / garden view. If you are travelling on your own, you can book this accommodation type and we will match you with someone of the same gender and, where possible, a similar age.
Triple room share
You could choose to share one of our charming triple-share rooms, with two other person. These rooms have been arranged to make the space suitable for social distancing. There are three single beds. These rooms have their own en-suite bathroom, with outdoor balcony area with sea / garden view. If you are travelling on your own, you can book this accommodation type and we will match you with someone of the same gender and, where possible, a similar age.
Arrival Information - Airport ZTH : Zakynthos
Taxi from Zakynthos International Airport (Dionysios SolomosAirport) (ZTH), you can find an official taxi stand outside the airport entrance. Taxis usually accept cash and you can share up to three people per journey. The cost from the airport to the retreat is 30 EUR per taxi. There are no regular local bus services. If you need any help booking taxis prior to arrival, please let Sword and Yoga know.
Facilities
The retreat is set in lovely Greek beach side hotel, with pine and olive trees with leander flowers. There are a wide range of facilities at the retreat including:
Yoga terrace: Our yoga terrace is used for yoga classes so that you can enjoy practicing your yoga with the views of the mountains and sea. It is fully equipped with mats, blocks, blankets and straps. During the day, the terrace gives you magnificent sea and mountain views and is available for you to enjoy when not in use for retreat activities.
Yoga area on the beach: The beach side yoga area is used for sunrise and sunset yoga / workout sessions and other activities. We will provide yoga mats,blocks and blankets.
Outdoor swimming pool: There is an outdoor swimming pool over looking the mediterranean beautiful sea at Stamirs with Sun beds and parasols: A large number of sun beds are available around the retreat so you can choose where to relax. There is also an outdoor quiet seating area in which you can read, write or relax.
Breakfast area: There is a dedicated breakfast area at the Stamiris, However there are also lots of tables and chairs around the retreat where you can choose to eat.
Balcony areas: all of the rooms have a personal terrace area containing table and chairs.
Internet access: free Wi-Fi in all rooms and communal areas.
Car parking: If you wish to hire a car during your stay there is private parking available on the retreat grounds.
Air conditioning: All rooms have air conditioning.
Other apartment facilities: including fridge and Stamiris offer unlimited filtered water and herbal teas.
Food & Drinks
We believe that the starting point for rejuvenation and detox of the body and mind is through the foods that we consume. Therefore, offer freshly cooked meals, fruit and vegetables at SWYO Retreats. We serve a plant-based diet, packed full with nutrition to give your whole system support and a well-deserved rest.
We use locally sourced products and local suppliers, so the menu is typically Greek, with a mediterranean twist! All dishes are prepared and cooked with care and love. We use lots of herbs and spices to bring flavour and variety, plus serving a selection of dishes with a variety of textures, colours and flavours.
Breakfast and the dinner are included in the cost of your retreat. We will serve a fresh juice during the day, sometimes after a session.
You can enjoy a range of dishes, for dinner, we have various meals each day at a local taverna ( restaurant ). At the end of the day we will take a breeze walk to the local taverna ( restaurant ) as a group. Take this opportunity to get to know each other and create meaningful conversations within the community.
We also offer you the opportunity to try juicing.
We do serve vegan alternatives including rice milk or soya yoghurts. Each meal is nutritionally balanced, so will include vegan sources of protein, and a carbohydrate option.
Typical foods served
*Breakfast: healthy breakfast (homemade granola, homemade muesli, porridge, fruits, greek yogurt, juice )
*Lunch time: Free time to sunbathe, swim or discover local restaurants and island on your own or as a group.
*Evening meal examples: Greek salad, lentil Soup, vegan lasagna, Spinach pie, Greek pasta dishes, Greek vegetable bake, plus assorted salads and lots of vegetable side dishes.
Sometimes occasional treats are provided - of the healthy variety of course! In the afternoon we provide you with a fresh juice to freshen up after the mid day class.
SWYO retreats can cater for most dietary requests for allergies or intolerances, including gluten- or wheat-free, coeliacs and people with nut allergies. Please let them know at the time of booking if you have a special dietary request.
You are encouraged to drink at least 3-5 liters of water per day whilst at the retreat as this helps with elimination of toxins and helps to keep the body well hydrated. Filtered water is available for you at the retreat. There is also a wide range of herbal teas, including green tea and hot water so you can make yourself a hot drink whenever you chose.