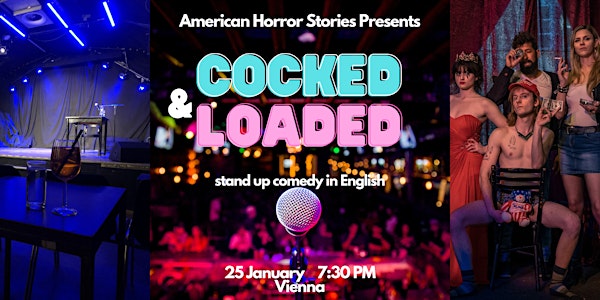 American Horror Stories Comedy: COCKED & LOADED | VIENNA | ENGLISH
4 of Europe's top American comics get together for a night of twisted comedy from the homeland, and LOTS of deserved Austrian roasting.
When and where
Location
Café Aera 11 Gonzagagasse 1010 Wien Austria
Refund Policy
Contact the organizer to request a refund.
About this event
PLEASE NOTE: Due to fraudulent secondhand ticket sales, please be aware that tickets for this show can only be bought through Eventbrite and OETicket. If somebody else is peddling an AHS ticket to you, you're effectively buying oceanfront property in Idaho.
VIENNA, they loved you so much last time, and tolerated each other just enough, to return for another performance at the beautiful Cafe Aera. Four of Europe's top American comedians are back for another night of twisted but true comedy from our favorite dumpster fire called 'Murrica. Guns, Jesus, Twinkies, Abortions.....nothing is off limits.
Your killer Patriots:
Aislinn Kane (Tennessee/California) is a young but seasoned comedian based in Vienna, Austria. An American Expat with a suspicious number of passports and a duffle bag of various currencies allegedly buried in a desert somewhere, she engages audiences with quick-witted humor and absurd anecdotes from her unconventional life and experiences living abroad. She makes up one third of the Gays and Theys Comedy trio, a travelling LGBTQ+ comedy show that tours Eastern Europe out of both a sincere desire to help others laugh and pure spite. @callmeashleykay
Eric James (California) is the elder statesman who, despite living in the EU for a few years, refuses to let go of his Los Angeles roots and attitude toward - his words - "soft" Europeans. Brutally honest, self aware, and a proud Incel Hunter, Eric prefers to improvise material while sharing his love of cats, women, and bad Youtube eulogies. @stillwestsideeric
Samantha Lackner (Arizona) brings the real, whether it be scaring meth-heads off her Phoenix lawn with an Uzi, choking love interests with their HDMI cords, and pontificating over her failed relationships with Kid Rock and Guy Fieri. Sam is a self-described big bad b**ch, and just as likely to beat you up after making you laugh. @samammoth_
Jacob Liss (California) is a traitorous Benedict Arnold type, who has left their native sunny California for the piping hot Schnitzel of Central Europe. They're fast, they're funny, they're non-binary, and they're HOT. Their comedy combines artistic subtlety with balls-to-the-wall NONsubtlety. They promise something for everyone, even Grandma. Especially Grandma.
🇺🇸 LANGUAGE | ENGLISH
📅 WEDNESDAY | JANUARY 25TH
⏰ TIMES: Doors 7.00 PM | Showtime: 8.00 PM
📍VENUE: The wonderful CAFE AERA
🎫 TICKETS: Unbelievable 10€ online, 13€ at the door!