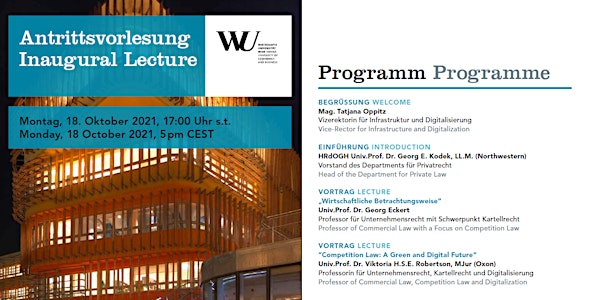 Antrittsvorlesung · Inaugural Lecture
Inaugural Lectures of Georg Eckert and of Viktoria Robertson at the Vienna University of Economics and Business
About this event
The Institute of Business Law at the Vienna University of Economics and Business cordially invites you to the Inaugural Lectures of Professor Georg Eckert and of Professor Viktoria H.S.E. Robertson:
Monday, 18 October 2021, at 5pm CEST
at the WU Campus (Welthandelsplatz 1, 1020 Vienna) and online.
Für die persönliche Teilnahme wird eine Warteliste geführt. Je nach den behördlichen Covid-Beschränkungen zu dem Termin wird geprüft, ob eine persönliche Teilnahme am WU-Campus möglich ist. Zu jetzigem Stand ist eine Teilnahme ohne Einschränkung der Teilnehmerzahl möglich.
*************************
Das Institut für Unternehmensrecht der Wirtschaftsuniversität Wien lädt Sie herzlich zu den Antrittsvorlesungen von Professor Georg Eckert und Professorin Viktoria H.S.E. Robertson ein:
Montag, 18. Oktober 2021, um 17 Uhr s.t.
auf dem WU-Campus (Welthandelsplatz 1, 1020 Wien) und online.
In-person tickets are organised via a waiting list. Depending on the governmental Covid restrictions on the date, it will be evaluated if participation on the WU campus is feasible. Currently, participation is possible without restriction of the number of participants.
********************