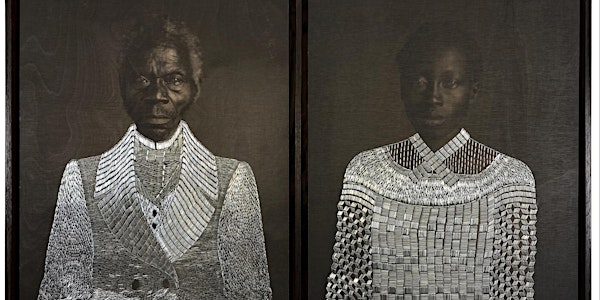 "Apologoscapes" of Objects, Bodies, and Memories. Part III
Part III: "Demounting Louis Agassiz" Suzana MILEVSKA (Fellow) in conversation with Sasha HUBER (visual artist-researcher)
About this event
"Apologoscapes" of Objects, Bodies, and Memories: Materiality and Institutionality of Apology
Part III: "Demounting Louis Agassiz": Artistic Renegotiation of Archive, Memory & Place
Suzana MILEVSKA (Fellow) in conversation with Sasha HUBER (visual artist-researcher)
Presentations and discussion
Tue 22 March 2022, 19.00
Künstlerhaus Büchsenhausen | Streaming via Zoom and Facebook
If you would like to directly participate in the discussion on Zoom, please register via Eventbrite. More information here.
In the framework of her cross-disciplinary research project Ethical and Aesthetical Protocols of Apology, Suzana MILEVSKA invites several artists, theorists, and researchers in different disciplines and fields of study for a series of public talks and written conversations. In addition to the pressing questions regarding systemic and institutional politics of apology and the ethical and aesthetical protocols that form an indispensable precondition for any successful apology, Milevska's project attempts to draw "apologoscapes" and "memoryscapes" of internalized traumatic memory, postmemory, and collective and public forgetting.
The third phase of the project investigates the institutionalized apologetic and non-apologetic discourses and narratives surrounding contested names, places, and bodies. The issues relevant for this session are artistic practices, research methods and strategies that may help raise awareness of past wrongdoings and prompt and enable future apologies and forgiveness by challenging imperialism, colonization, slavery, and racism. In the light of the current disputes about the appropriation and ownership of racialized imageries and representations in the famous lawsuit of Tamara K. Lanier, who challenged Harvard University over the unlawful ownership and profits from daguerreotypes of her enslaved ancestors, Milevska will look closer at several examples of artistic and social interventions in the discourses of apology, e.g. at the artistic research, performative and activist protocols of renaming in the artworks of the Swiss/Haitian visual artist-researcher Sasha HUBER, and in the projects of the Romani artist Alfred Ullrich that involve the crossing out of stereotypical and racist inscriptions.
Part III
Sasha HUBER: "Demounting Louis Agassiz": Artistic Renegotiation of Archive, Memory & Place
In her presentation, Sasha HUBER will speak about her artistic research engagement within the cultural-activist campaign Demounting Louis Agassiz (DLA) and how ethics play a role in it. The campaign advocated for the Agassizhorn mountain in the Swiss Alps to be renamed the "Rentyhorn". The campaign was launched in Switzerland in 2007, coinciding with the bicentenary of the birth of Louis Agassiz (1807-1873). Exhibitions celebrating the great naturalist continually failed to display his life and works in their entirety. The focus was based on his merits in glaciology, ice age theory, and ichthyology. The aim of the campaign was to raise awareness of the racial theories that he had advocated right up to the US government level and which made him one of the 19th century's most influential racists. As a DLA committee member, Huber started her work in 2008 and has since developed an ongoing multidisciplinary and collaborative body of work worldwide. This long-term endeavor is concerned with colonial traces and memory from a decolonial perspective and how those traces impact our present and future while finding ways in contributing to the healing and caring of the colonial wounds.
(Abstract by Sasha Huber)
Suzana MILEVSKA is a curator and theorist of art and visual culture, based in Skopje, North Macedonia. Her theoretical research projects employ postcolonial and feminist institutional critique of representational regimes of hegemonic power in arts and visual culture, and the deconstruction and decolonization of contentious cultural heritages in art institutions, collections, and public spaces. Her curatorial projects focus on collaborative and participatory art practices, feminist projects by women artists looking at visual microhistories in historic and family photographic archives, and community-based projects in solidarity with marginalized and disenfranchised communities.
Sasha HUBER (*1975, CH/FI) is a Helsinki-based, multidisciplinary visual artist-researcher of Swiss-Haitian heritage. Huber's work is primarily concerned with the politics of memory and belonging, particularly in relation to colonial residue left in the environment. Sensitive to the subtle threads connecting history and the present, she uses and responds to archival material within a layered creative practice that encompasses performance-based reparative interventions, video, photography, and collaborations. Huber is also claiming the compressed-air staple gun, aware of its symbolic significance as a weapon while offering the potential to renegotiate unequal power dynamics and names these laborious artworks 'pain-things'. Huber holds an MA in visual culture from the Aalto University in Helsinki and is presently undertaking a practice-based PhD at the Zurich University of the Arts in artistic research. Huber has had solo exhibitions, joined short film festivals and residencies worldwide, and participated in international exhibitions, including the 56th Venice Biennial in 2015. In 2021 Huber started her first solo exhibition tour with the title You Name It. The tour began at Kunstinstituut Melly in Rotterdam and continues to further institutions such as The Power Plant Contemporary Art Gallery in Toronto, Autograph in London, and Turku Art Museum in Finland. In 2018 Huber was the recipient of the State Art Award in the category visual arts given by the Arts Promotion Center Finland.