Dieses Event ist beendet.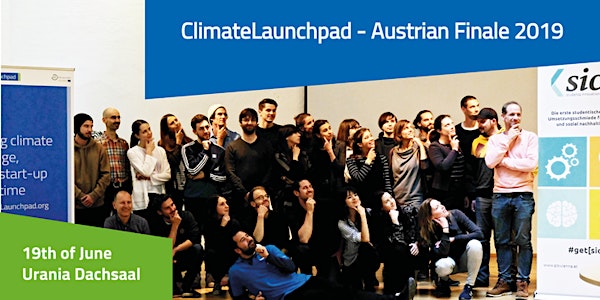 Austrian National Final: ClimateLaunchpad 2019
Zeit und Ort
Veranstaltungsort
Urania Dachsaal 1 Uraniastraße 1010 Wien Austria
Karte und Wegbeschreibung
Beschreibung
***Welcome to the Austrian Final of the World´s Largest Green Start-Up Competition***
Only a couple of weeks ago, on the first weekend of May, this year´s program of ClimateLaunchpad kicked off with our Bootcamp. (Check out the video here: https://www.facebook.com/sic.vienna/videos/748491202219485/)
And now, a heartbeat later, the National Final is knocking on our door. Come on in! Come on in!
After intensive training, the chosen teams are ready to rock the stage and take your breath away with their green business ideas. Hold on to your chair and meet the changemakers of today on June 19th.
Hard facts:
Dachsaal der Urania, Uraniastraße 1, 1010 Vienna

Start: 17h

End: 23h
What awaits you?
13 mind-blowing pitches

a panel of experts to choose Austria´s winners 2019

time and space to mingle, chitchat, inspire and get inspired

a rooftop terrace with a view over our beautiful city
Plus: Finest vegan bio-catering after the announcement of this year´s winners. Can it get any better?
Well…
Clear the stage for…the cherry on top: Teddy Bear Cove! After all the sitting, tense with excitement, you will get the chance to groove along to the very best combination of Rock´n´Roll, Blues and Classical Music.
**************************************************************************************
Open for everybody - cheerleaders, investors, potential co-founders, proud mamas, changemakers yourselves or on the way to be one. Come as you are – but please register here.
Our event is a green event. Mind your footprint, mind your step and mind the gap when taking the metro or tram.
ClimateLaunchpad 2019 in Austria is organised by [sic!] - students´ innovation centre.
Photos and videos will be taken throughout the event. Show us your most beautiful smile – you will be on our Social Media channels!
A big thank you to our partners and sponsors: Öko business, ERGO Österreich, klimaktiv, BOKU Universität, Impact Hub Vienna, Wirtschaftsagentur Wien, TU the TOP Alumni Club, The Blue Minds Company, INITS, Der Brutkasten, ECN // Gründungszentrum WU, RCE Vienna.