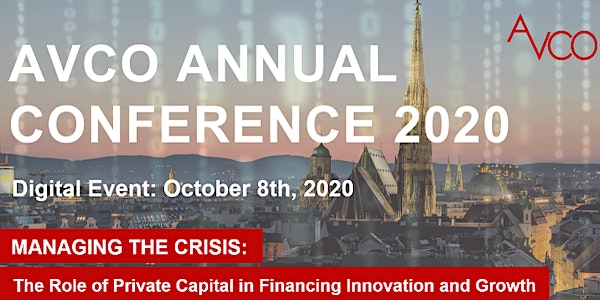 AVCO Annual Conference 2020
Meet top players of the DACH & CEE Venture Capital and Private Equity Industry at Austria's leading VC/PE conference!
About this event
The one-day conference provides an information sharing and networking platform. It will be all about sharing and discussing current issues of the VC/PE Industry.
Due to COVID-19, the conference will be held as an online event. A digital conference offers many advantages for attendees, sponsors, speakers but also for us as organisers. We can reach attendees in the DACH and CEE region and discuss relevant topics of the industry with high-level speakers:
Uli Grabenwarter, European Investment Fund (EIF)
Regina Hodits, Wellington Partners
Georg Kopetz, TTTech Auto AG
Adam Lessing, LGT Bank
Antonella Mei-Pochtler, Special Advisor to the Federal Chancellor of Austria
Andreas Treichl, Erste Foundation
and many more...
For further information please visit our event page: https://avco.at/events/avco-annual-conference-2020/
Join the conversation, get new insights and extend your network @ AVCO ANNUAL CONFERENCE 2020!
#avcoannualconference #venturecapital #privateequity #privatecapital #investing #economicgrowth
---
Privacy Policy
With the registration, the attendee accepts the processing of their personal data in accordance with our Privacy Policy. The organiser is given permission to record the event and to use the recordings in connection with the event for public relations and documentation. The organiser is given permission to use the attendee's e-mail address for marketing purposes (newsletter). The e-mail address will not be passed on to third parties; unsubscribing from the newsletter is possible at any time. The organiser is given permission to use the attendee's name, position and company for the attendee directory which will be available through a platform for attendees only. If you do not want to appear in the attendee directory, please let us know via office@avco.at. Thank you!