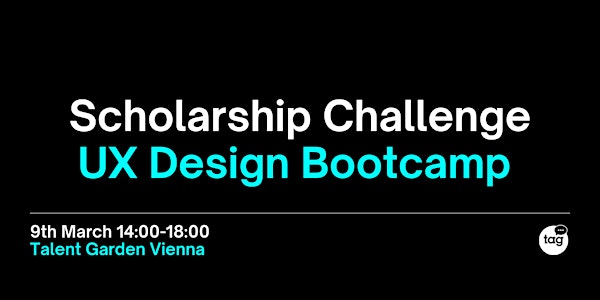 Become a UX Designer! Get a scholarship to our UX Design Bootcamp
Join our challenge and win a full scholarship to enrol our UX Design Bootcamp in Vienna!
When and where
Date and time
Thu, 9 Mar 2023 14:00 - 20:00 CET
Location
Talent Garden Vienna Liechtensteinstraße 111-115 1090 Wien Austria
About this event
At Talent Garden Vienna we're super happy to announce our first Scholarship Challenge on-site competition!
Are you looking for a course in UX Design that will land you your dream job?
Because we are looking for someone talented and innovative, whose motivation goes beyond becoming a UX Designer to be the holder of a full scholarship to our UX Design Bootcamp!
Join us for a chance to:
Get to know the Talent Garden team and its mission
Work & network with like-minded people
Challenge yourself
Join our community aperitivo afterward!
Agenda
14:00 - 14:30 Welcome (Intro to Talent Garden & the UX Design Bootcamp)
14:30 - 14:45 Group Project briefing (get familiar with the brief and ask eventual questions)
14:45 - 15:30 Group Project (find your group and work on the project )
15:30 - 15:45 Break
15:45 - 16:00 Personal Project briefing (get familiar with the brief and ask eventual questions)
16:00 - 16:45 Personal Project (work on your personal project)
16: 45 - 17:00 Break
17:00 - 18:00 Pitch time (Present your project in a 3 minutes pitch)
18:00 🍻🍻Community Aperitivo (Join us and our Talent Garden community for a drink!)
How to participate in the challenge?
Apply to the UX Design Bootcamp here (if you still haven't)
Register for the event
What do you need for the event?
Please bring your laptop to be able to work on the projects!
Note: A 900€ fee will apply to the scholarship winner!
Talent Garden Innovation School
Founded in Italy, in 2011, Talent Garden is Europe's leading digital education provider and coworking network for innovators and tech ecosystem. Our EduTech network, which spans across 12 countries and focuses on data, marketing, design, coding, digital HR, and business, grew bigger thanks to the acquisition of Hyper Island, the Swedish business school specialising in digital education with a range of accredited, part-time and full-time educational programs and intensive courses. By teaming up with a player with over 25 years of expertise, we're paving the way toward the future of education.
About the organiser
Talent Garden ist ein europäisches Unternehmen, das Coworking, Aus- und Weiterbildung sowie branchenspezifische Veranstaltungen für die digitale und technische Community anbietet.