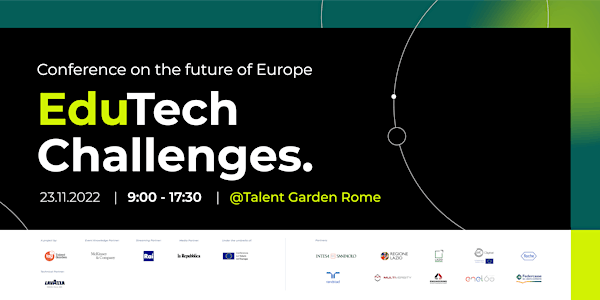 Conference on the Future of Europe. EduTech Challenges | 23/11
Ti aspettiamo il 23/11 in Talent Garden Ostiense per la "Conference on the Future of Europe. EduTech Challenges"!
Quando e dove
Località
Talent Garden Ostiense 92 Via Ostiense 00154 Roma Italy
Informazioni sull'evento
🇮🇹 Partecipa alla Conference on the Future of Europe. Edutech Challenges!
Sapevi che secondo un report del World Economic Forum e PwC, il 50% dei lavoratori di tutto il mondo avrà bisogno di fare reskilling entro il 2025?
La Conference on the Future of Europe. EduTech Challenges è un'occasione imperdibile per opinion leader, startup, istituzioni, esperti accademici, associazioni e, in ultima battuta, i cittadini, per discutere delle sfide relative alla formazione della forza lavoro.
Una giornata di deep dive sulla situazione attuale, il ruolo chiave dell'innovazione nell'education e i trend e le tecnologie che stanno dando forma a scenari futuri.
Quindi, parleremo di:
DIGITAL MINDSET & LEADERSHIP – ETHICAL PRACTICES
SKILLS GAP ANALYSIS – THE FUTURE OF WORK
TALENT STRATEGY – CLOSING THE SKILLS GAPS
NEW WAYS OF LEARNING – PROFESSIONAL & PERSONAL GROWTH
UPSKILLING & RESKILLING
Sei a Roma il 23/11? Vieni all'evento e vivilo in prima persona: assicurati un biglietto! Mi raccomando: se vuoi partecipare tutto il giorno, assicurati di iscriverti sia al mattino che al pomeriggio!
Agenda & Speaker
Per maggiori informazioni o tenere d'occhio l'agenda aggiornatissima, consulta pure il sito ufficiale dell'evento!
10:00 | Welcome opening | Davide Dattoli - Co-founder and executive chairman, Talent Garden, Lorenzo Maternini - Co-founder and Vice-president, Talent Garden"
10:10 | Europe and the edutech challenges | Mariya Gabriel - EU Commissioner for Innovation, Research, Culture, Education and Youth
10:15 | Institutional speech | Daniele Leodori - Vice-President, Regione Lazio
10:20 | Webfare: the human capital in 2030 | Maurizio Ferraris - Full Professor of Theoretical Philosophy, University of Turin
10:30 | The Power of Skill Mixing in Seeding Innovation | Donatella Taurasi - Lecturer, Berkley Haas School of Business
10:45 | The power of reskilling | Massimo Giordano - Managing Partner, McKinsey Mediterranean
10:55 | A new competence transition | Moderator: Eva Giovannini - journalist, RaiNews, Roberto Scrivo - Engineering, Chief Public Affairs, Corporate Communication & Sustainability Officer, Maurizio de Cicco - General Manager and President, Roche, Paola Papanicolaou - Executive Director Transformation Center, Intesa Sanpaolo, Simone Mori - Europe Director, Enel
11:20 | Education without borders | Moderator: Andrea Frollà, journalist - LaRepubblica and Affari&Finanza, Mattia De Grassi - Cabinet of Vice-President Dubravka Šuica, Democracy and Demography, Chiara Riondino -Head of Unit for Vocational Education and Training, Directorate-General for Employment, Social Affairs & Inclusion, European Commission, Monica Parrella - Adjunt professor, Luiss Business School"
11:40 | Institutional speech | Antonio Tajani, Ministry of Foreign Affairs and International Cooperation
11:50 | Broaden your horizons | Diva Tommei, Chief Innovation & Education/Chief Marketing - EIT Digital
12:00 | Institutional speech | Jan Björklund - Ambassador of Sweden to Italy
12:10 | Beyond the lack of talents | Anka Gajentaan, SVP Global Concept, Randstad
12:20 | Design the learning experience | "Moderator: Sara Bonfioli - CMO, Talent Garden, Diane Lenne - Founder, WAP - We are peers, Simone Lattanzi - CEO & Co-Founder, Creative Harbour, Matteo Penzo, Co-Founder & CEO, zick learn"
12:40 | Lunch Break
14:00 | Yes, we change! | Alberto Mattiello - Business Futurist
14:15 | Edutech in the metaverse | "Ganesh Yoganathan, Chief Information Officer - Modul University, John King, Higher Education & Sales Director - VictoryXR"
14:30 | The Innovative Elevator | Vincenzo di Nicola, Head of Technological Innovation and Digital Transformation, INPS
14:40 | Growing together: LazioInnova and the power of innovation | Nicola Tasco - Presidente, Lazio Innova, Michela Michilli - Head of Development and Promotion of new services, Lazio Innova, Lorenzo De Fabio - VC Funds Manager, Lazio Innova
15:00 | How to boost your carreer | Moderator: Tiziana Di Simone, journalist, Giornale Radio, Oscar Pasquali - CEO, Generation Italy, Cristina Pozzi - CEO, Edulia"
15:10 | The Future of Education | Moderator: Tiziana Di Simone, journalist, Giornale Radio, Giuseppe Conte - Member of the Chamber of Deputies, Movimento 5 Stelle, Giulio Centemero - Member of the Chamber of Deputies, Lega, Anna Ascani - MP of Democratic Party and Vice-President of the Chamber of Deputy, Alessandro Cattaneo - Member of the Chamber of Deputies, Forza Italia
15:40 | Talent is your business | Tiziano Bucci - CEO, Invader Studio
15:45 | Upgrade your future! | Chiara Guiotto - Italian Tech Academy
15:50 | The next challenges: meet the innovators! | Moderator: Matteo Bagnato - Managing Director, EdTech Italia, Roberto Marazzini - Co-founder & CEO, Boolean, Ivan Ranza - Co-founder & CEO, Epicode, Giulia Amico Di Meane - Innovation School Director, Talent Garden, Davide Neve - CEO & Founder, Aulab
16:15 | Closing Day 2
Come partecipare
1. Prenota il tuo biglietto tramite Eventbrite
2. Il 23 ci vediamo in Talent Garden Ostiense (Via Ostiense, 92, 00154 Roma RM). Vieni alle 09:00 se hai preso il biglietto dal mattino, o dalle 14:00 se hai prenotato solo il pomeriggio!
3. Ritira il tuo pass alla registrazione ed entra all'evento
4. Enjoy!
Sull'evento
Conference on the Future of Europe - Edutech Challenges is a project by Talent Garden, under the umbrella of the Conference on the Future of Europe, together with McKinsey as Event Knowledge Partner, La Repubblica as media partner and Rai as our streaming partner. The event is organized with the support of EIT Digital, Randstad, Roche, Intesa Sanpaolo, Multiversity, Regione Lazio, Lazio Innova and Engineering.