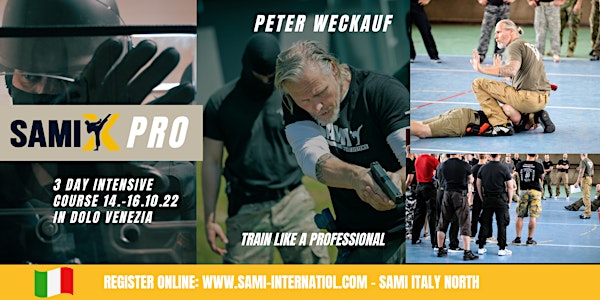 SAMI-X PRO Intensive Course ITALY
Law Enforcement Training for Instructors and Authorities
Quando e dove
Località
A.S.D. Accademia Fu Dou Shin 18 Piazza Marzabotto 30031 Dolo Italy
Politica di rimborso
Contatta l'organizzatore per richiedere un rimborso.
Informazioni sull'evento
English version below
CORSO ISTRUTTORI & PROFESSIONISTI
riservato a Forze Dell'Ordine, Professionisti della sicurezza, ed istruttori.
Dal 14 al 16 ottobre 2022 Peter Weckauf ed il suo staff in collaborazione con SAMI Italy North saranno di nuovo in Italia presso la Palestra @a.s.d.fudoushin per il corso di formazione per Forze Dell'Ordine e Professionisti della Sicurezza.
Per info e prenotazioni manente.g@virgilio.it +39 333 204 9596 oppure scrivi in DM (messaggio privato).
SAMI-X PRO è sinonimo di gestione professionale per situazioni e scenari di minacce utilizzando tutti i mezzi ragionevoli disponibili. Gestione delle situazioni sia armati che disarmati in base alle esigenze operative.
Il programma è stato sviluppato appositamente per Forze Operative come:
Polizia, Forze Armate, Sicurezza, Agenzie Governative e Professionisti della sicurezza privata.
prezzo Euro 280,-
_________________________________________________________________________________________
The emphasis is training and development of defensive and offensive skills of armed operational forces. Training is oriented to armed defense (incl. Practical and tactical weapon handling) and defense against armed or unarmed attacks by single or multiple aggressors. This includes unarmed combat, armed combat and practical use of weapons of all descriptions (handgun, rifle, knife, baton, belt, pepper-spray and improvised weapons). Central to the training concept is the proportionality and achieve control over your attacker and / or situation either alone or in a team. Our training is built on a modular system. The main focus is based on a trainings program used by judiciary, law enforcement and the military.
Content
Beginner - Level 6
Training methods
Teaching methods
Tactical training for judiciary, military, police, security personnel, armed civilians
Unarmed combat
Armed combat (handgun, rifle, knife, stick/baton, belt, pepper-spray, tonfa, improvised weapons)
Weapon handling
Weapon tactics
Weapon protection
Weapon retention
Weapon defense
Defense with weapons
Armed hostage takers
Struggle for a weapon
Control techniques
Stress and aggression drills
Skill training
Team training
And much more ...
Minimum 24 years of age
No criminal record
False statements in regard to age or criminal record will result in exclusion from training. The organizer reserves the right to refuse participation at any time without statement of reason.
Seminar price: Euro 280,-
QUALIFICATION AND CERTIFICATION
Joining the SAMI Instructor family is a 2-step process and it is important to understand that completion of any of our instructor courses in itself does not automatically permit you to teach or train others as a SAMI International affiliate under the SAMI brand name.
STEP 1: QUALIFICATION
This is the purpose of this course and after full completion of all required tasks and successfully passing the final examination you will have attained the technical qualification necessary to become certified as a SAMI Instructor and SAMI International affiliate.
An individual qualification is defined for a particular system, at a particular level. For example: SAMI-X Pro Level 1 Candidate Instructor
STEP 2: CERTIFICATION
In order to commercially and professionally teach or train others utilizing SAMI techniques, concepts, training methods, training materials, logos, SAMI brand name, etc. you must be certified and licensed as an affiliate by SAMI International.
A SAMI Instructor License costs €150.00 and must be renewed on a yearly basis. If your SAMI Instructor license expires and becomes inactive then you are no longer certified to teach as a SAMI International affiliate or use SAMI instruction materials.
Whereas Qualification is defined for an individual system and particular level, a single, active Certification covers all your qualifications. For example: if you have instructor qualifications in Knife Concept, Axe Concept and Defender then you require only one active SAMI Instructor License.
You can also join our courses and seminars without taking an exam or the aim of becoming a certified SAMI Instructor. You will then receive a students Diploma or a Confirmation of Participation.