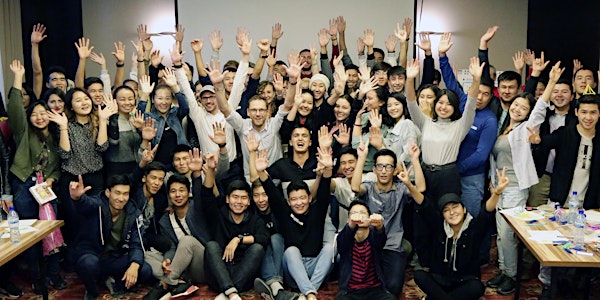 Boosting your productivity with Scrum - Extended
When and where
Location
Garden Hotel & SPA st. Emilbek Ailchiev 61 Южная Магистраль пересекает ул. Баха. Эмилбека Айлчиева 61 Bishkek Kyrgyzstan
Refund Policy
Refunds up to 7 days before event
Description
Boosting your productivity with Scrum in your teams and your software development - Extended -
with Sven Koble and David Großmann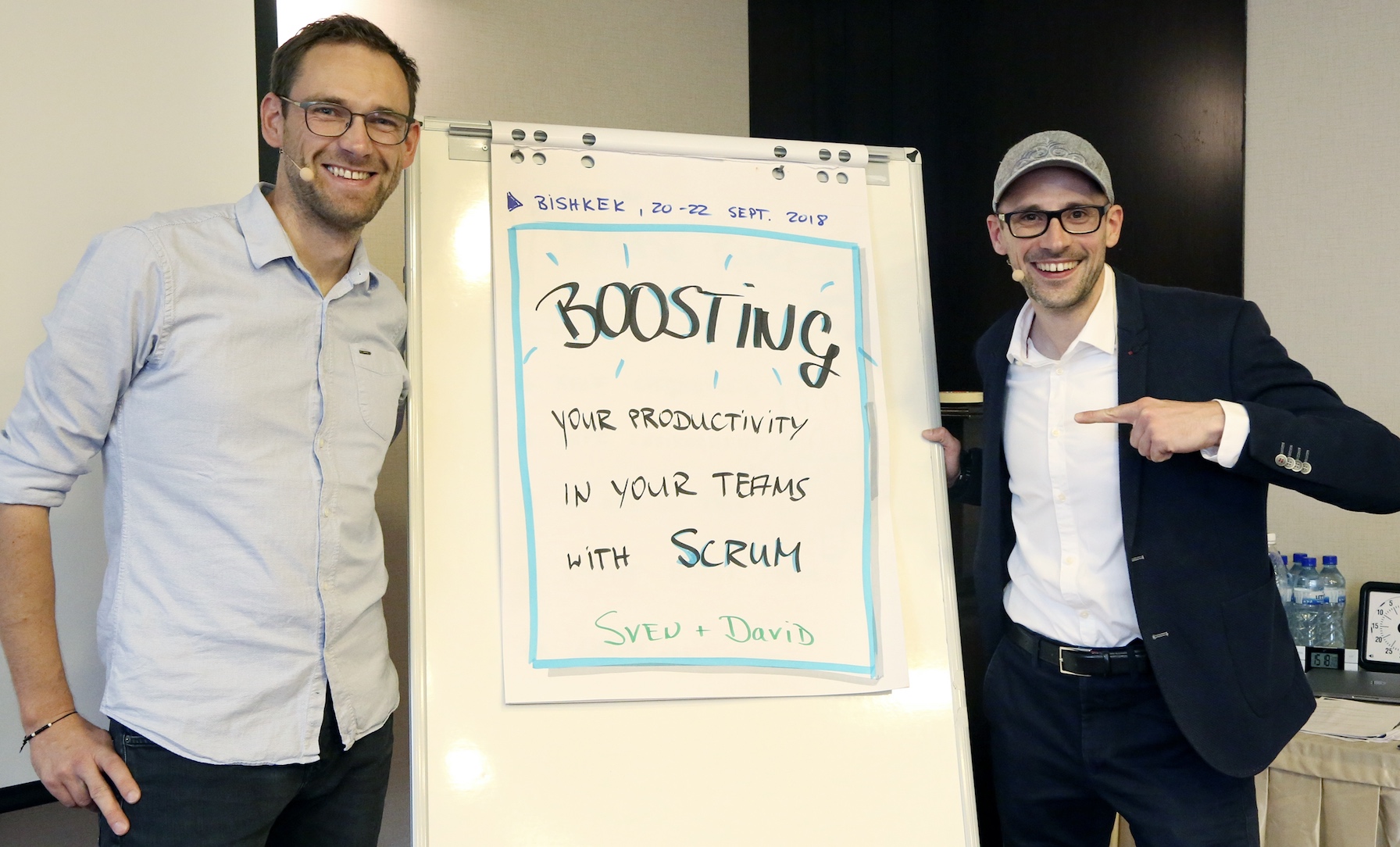 Overview
4 workshop days in Bishkek
In 2012 the agile workshop journey of Sven started in Kyrgyzstan and from year to year this workshop has grown into a bigger and bigger movement. In this "Boosting your productivty with Scrum workshop -Extended" workshop we focus on starting your agile journey. And for the very first time we invite curious people from around the world to join in.
We crafted this 4 day highly interactive and exercise based learning experience to start your agile journey.
If you have heart of Scrum before or not is not important. More important is to be curious and have an open mindset. We will support you from the start of your agile journey which will help you to enjoy work more, create flow and boost your and your teams productivity.
What will you learn
You will learn a lot about Scrum and how to boost your and your teams productivity:
Understanding of the Scrum framework, including Scrum roles, meetings, and artifacts to get a kick start on your project.

Tips and tricks from our experienced trainers of using Scrum in many countries and different environments

Practical, project proven exercises

How agile values and principles support you in increasing your productivity

How continuous improvement leads to high performing teams

History of Scrum

Sense of Responsibility in Teams - Creating User Stories and Epics

Evaluation of costs and surpluses

Retrospectives - how marginal gains lead to increased productivity

Insights from projects of working for more than 8 years in agile software development environments

Self organising and communication in teams

How to scale Scrum in your team and organisation
Beside all this you will have the opportunity to enjoy the local hospitality and discover an amazing country. We travel to Kyrgyzstan since 2012 and are again and again amazed by the people and nature of Kyrgyzstan. Enjoy :)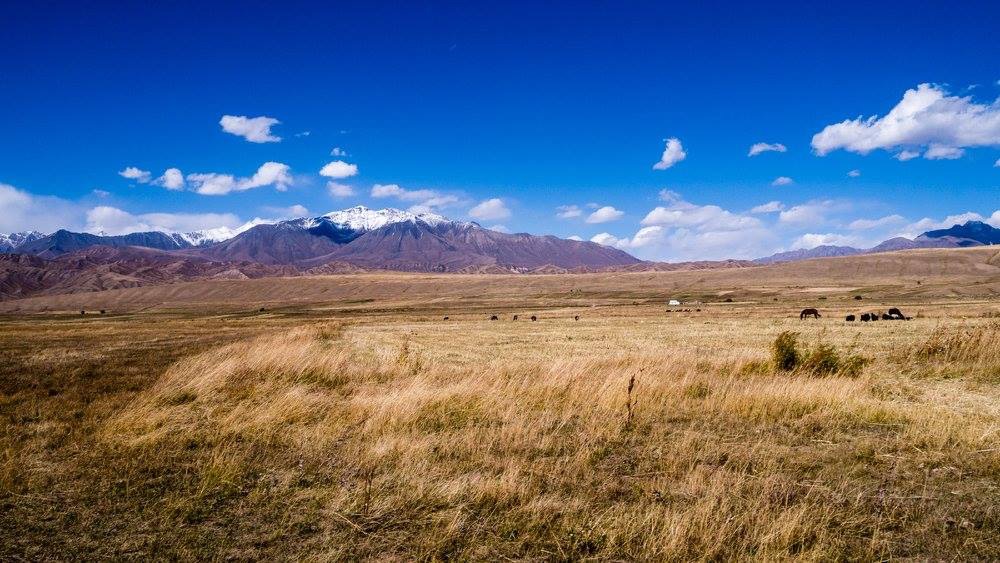 Support of local community
All ticket income goes to cover the expenses of this workshop. All remaining costs will be covered by BESK Group and Ulassa GmbH & Co. KG. Feel free to support us with a donation or become a sponsor of those awesome events in Bishkek.
With buying a ticket for this event you support also the local community to make it possible for local students and local companies to enjoy this workshop. This will provide for learning material, snacks & lunchs during the workshop. This will also help us to do a field trip into the mountains on the fourth day. And in general help to strenthen the local IT community in Kyrgyzstan on their agile journey.
Organizers
This workshop is Supported by DAAD with funds of the Ministry of Education and Research (BMBF). INAI.KG and Attractor Software supports us in the organization in Bishkek.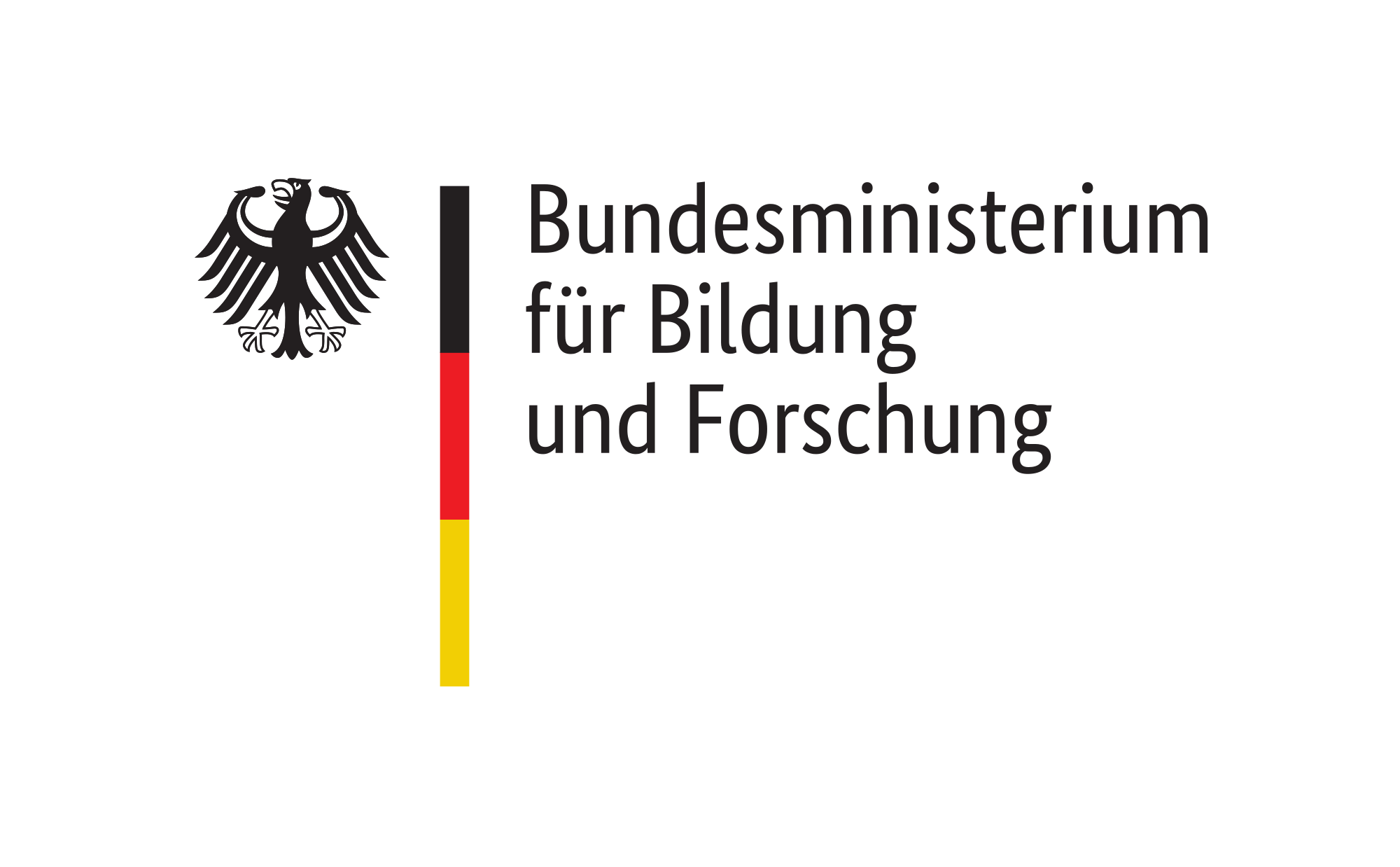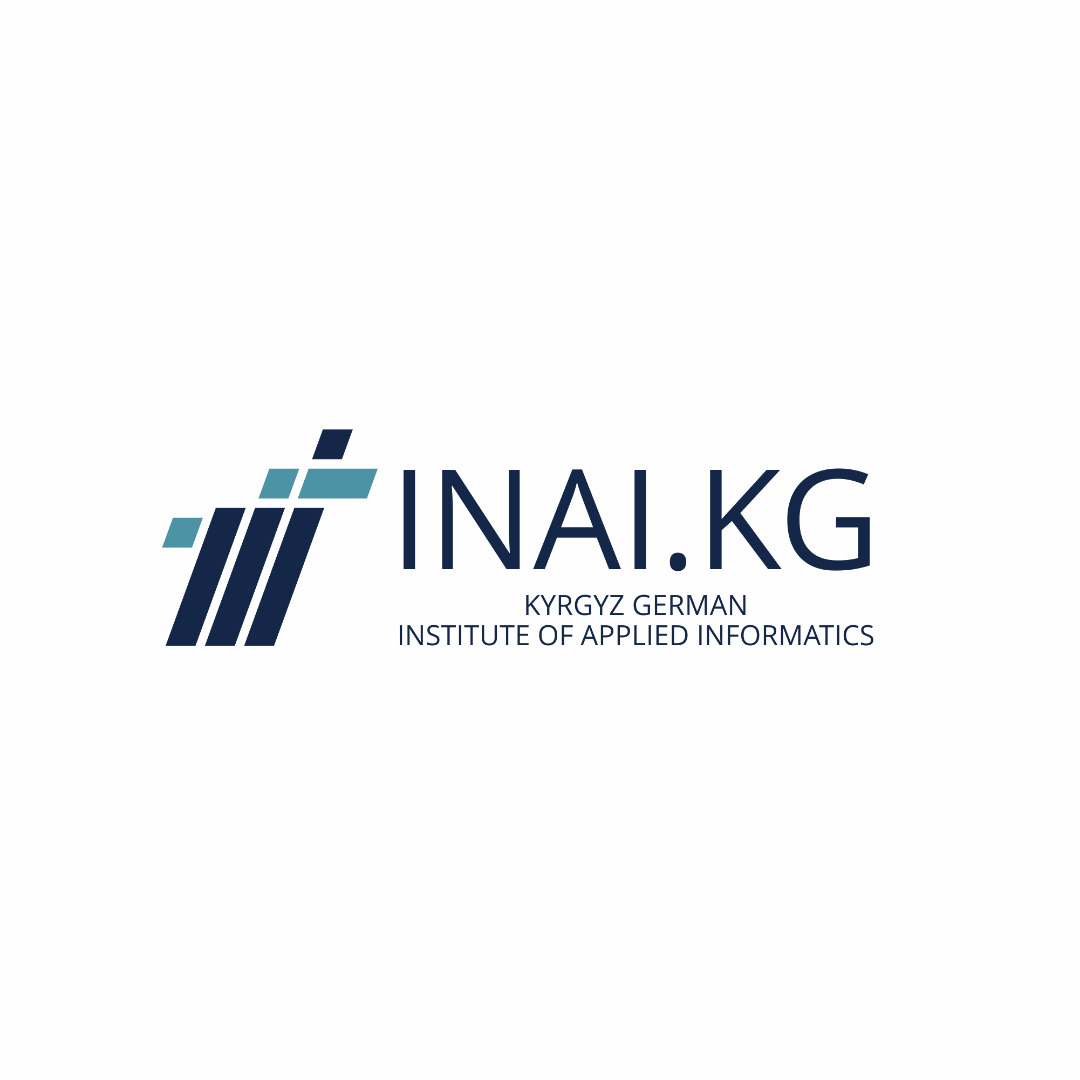 Certification
Course completion certificate will be provided.
Testimonials
"Those days totally changed my life, my point of view, may way of thinking. Those days where, frankly, the best days of my life [...] I will write on my dream paper that I wish I change someone's life the way you changed mine. Thank you again!" (Nino Keldishvili, computer science student)
"This workshop was an eye opener for me. [...] The facilitators did there job well and were very well prepared." (Batri T., software developer)
"Exciting and very interesting workshop" (Niko K., Project manager)
"I had some knowledge about Scrum but they helped me a lot in clarifying things" (Miro K., Project manager)
"I didn't know what to expect from the workshop before but it completely blow my mind" (Andro Djaginova, Senior software developer)
"I'm going to use Scrum a lot in the future as we just introduced it in our curriculum. Thanks to our outstanding trainers who have great capability and skills how to deal with big audiance and now I know how to teach it." (Tamar Lominadze, University professor and lecturer)
About your trainers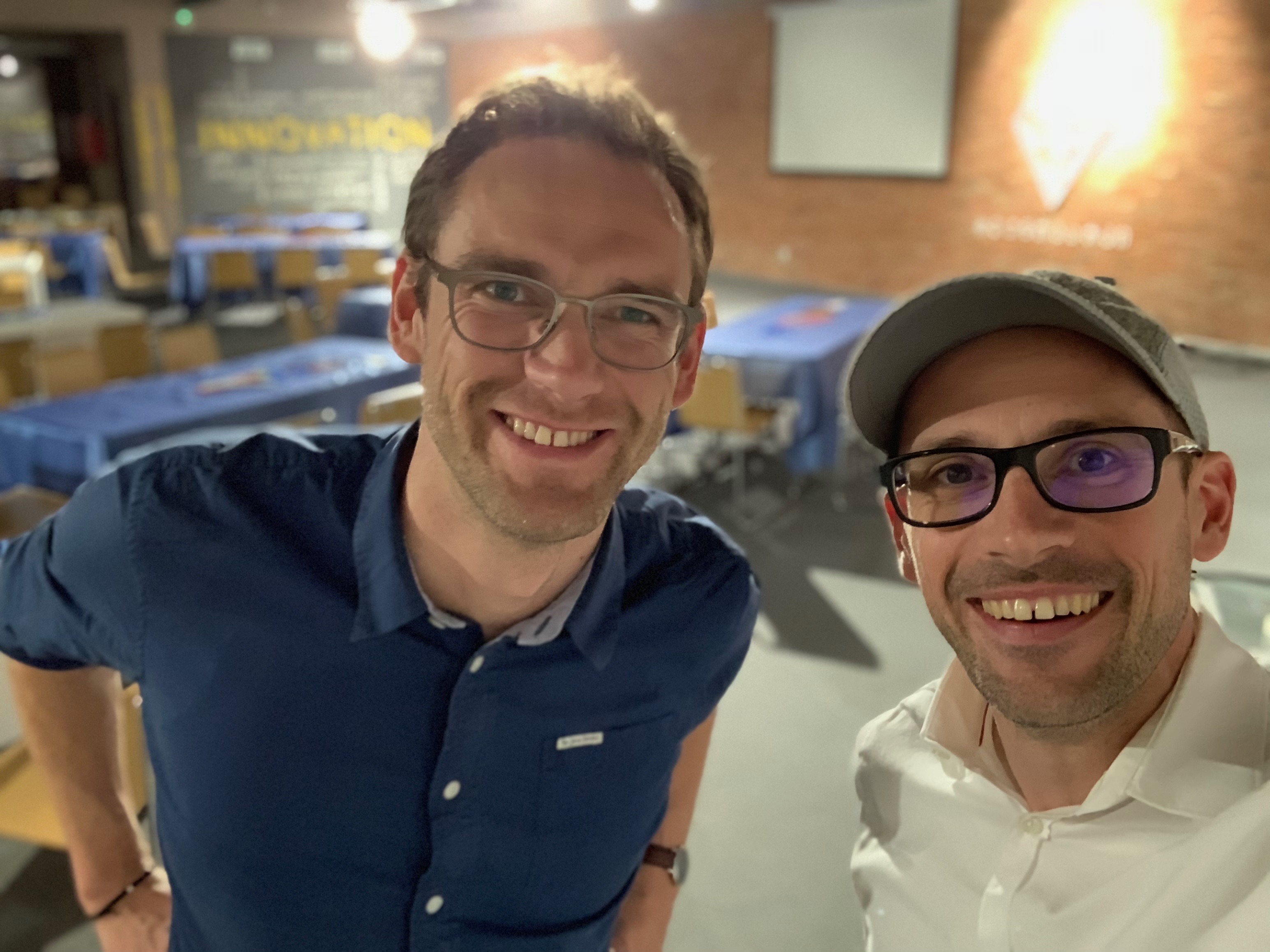 "Sven Koble is a Certified Scrum Master, Certified Product Owner and Certified Agile Leader.
As a leader in a business which is involved in communities, he listen and focus on giving the most to inspire teams and individuals in the ever-changing work environment. The greatest thing about being an entrepreneur is doing what he loves: helping people grow by experiencing the advantages of positivity within the work environment.
With his company Ulassa (ulassa.com) he provides agile communication tools, workshops, coaching to companies around the world, so they can take immediate action in implementing agile values and principles.
He worked with many international companies with co-located and distributed team supporting them to enjoy their work, creating flow and become more productive. He has more than 20 years IT experience around the world, including Germany, Hungary, Netherlands, India, Australia, China, Kyrgyzstan, Georgia, Romania."
"Dr. David Großmann is a certified agile leader and works for an established global player in the aviation industry as head of a highly interdisciplinary team developing computer aided engineering systems in the challenging field of aircraft engines. His field of interests include innovation and team leadership, talent management, communication methodologies and organization culture. He has also led multiple European academic research projects and is known in his field as a lecturer and conference speaker."
Donation
You cannot come to Kyrgyzstan this year but still want to support this good cause, where students and local companies get the opportunity to experience the agile mindset and create a ripple effect in their communities by spreading the agile values and principles. Please feel free to donate any amount, your support will be appreciated a lot! We will send you kudos and a video from the workshop. Thank you :)
FAQs
I'm an international guest, do I have to apply for a visa to come to Kyrgyzstan?
This depends on your country where you are from. More than 60 countries don't need any visa to enter Kyrgyzstan (most EU countries except Bulgaria, Cyprus and Romania). Please bring your passport and check if you are able to enter without a visa (Visa map of Kyrgyzstan)
Visa Checker for Kyrgyzstan click here
You are saying there is a 1 day field trip included, what is it about and where are we going?
Yes, allthough it is optional to join on this day (Thursday 10th of October 2019), we highly recommended it. As one of the biggest assets of Kyrgyzstan is the beautiful nature and we will drive out of Bishkek and explore the nearby mountain area for a 2-3h hike. Sport shoes are enough. More details what time we start and where we are going exactly will be told in the workshop.
What can I bring into the event?
Bring in your good mood, your kindness, your openness and curiousity to learn new things. Bring something to write you notes on.
How can I contact the organiser with any questions?
Please contact us on this mail address for any questions which are not already anwered from us: academy@ulassa.com
If you take videos or pictures I don't want to be on them.
In our workshop we generally record videos and pictures. This is appreciated by our participants and helps us spread the good vibes. If this is nothing for you, we understand this, but then this event is not for you. By purchasing tickets you also agree that we are allowed to take pictures and videos of the course and use them in the internet.
What's the refund policy?
We will provide you with a full refund up to 7 days before the event.
Do I have to bring my printed ticket to the event?
Would be great and if not, we find another way ;)
Is it ok if the name on my ticket or registration doesn't match the person who attends?
Please let us know who is coming instead so we get the chance to change the name printed on the certificate.