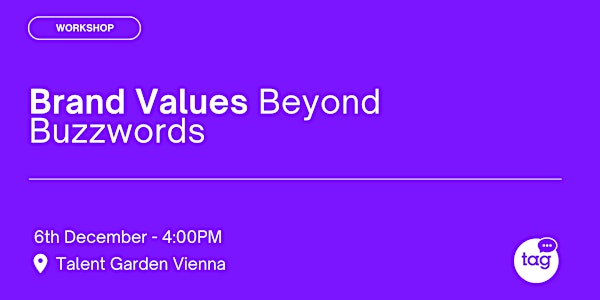 Brand Values Beyond Buzzwords
Learn how to build a strong and trustful brand value framework that resonates with your audience.
When and where
Location
Talent Garden Austria 111 Liechtensteinstraße #115 1090 Wien Austria
About this event
Brand values are an essential success factor for companies: 58% will buy or advocate for brands that resonate with their values; 60% will choose a place to work based on their beliefs (2022 Edelman Trust Barometer).
But in reality, many value statements sound the same. It is easy to hide behind popular terms, but it is better to use values as a differentiator to stand out.
In this workshop, we will build a strong and trustful value framework that resonates with your audience.
Learn:
… how great companies use their values to leverage their brand
… how to avoid vague terms that could mean anything and nothing
… how to fill your promises with meaning and action
This workshop is suited for people looking to build their personal brand as well as company teams.
In this hands-on session, you will receive tools to apply immediately and will get first feedback on your work.
We will end with a Q&A session where you can ask anything that you want to know about brand values or branding in general.
About the speaker:
As a "Brand Therapist", Silvia Lacher finds her playing field at the intersection of Research, Consulting and Communication with her company Strategy Workshop.
More than 10 years in the creative industries, she works with leading international advertising and design agencies, as well as big players in the fields of insurance, construction, finances, retail, F&B, and many more.
Her previous career as a designer and her special training in Consumer Behavior Trends inform her holistic approach to help her clients transform challenges into creative opportunities.