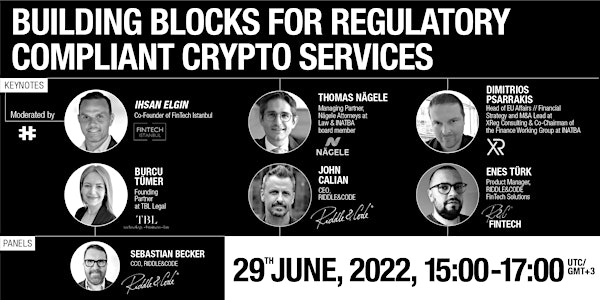 Building Blocks for Regulatory Compliant Crypto Services
This event aims to discuss Crypto Regulation trends & the best ways to achieve regulatory compliance in cooperation with Fintech Istanbul.
About this event
This event aims to discuss the current trends in Crypto Regulation across international markets and the best ways to achieve regulatory compliance by properly preparing from a strategic, technological and processual point of view. We will also provide information about how international players, such as banks and crypto exchanges, have adapted to different regulatory regimes in Europe and globally - and what systemic capabilities are needed when making decisions about partners and vendors.
The key focus is, of course, on the Turkish market, and the closing panel will try to make sense of the learnings shared in the first two parts of this webinar, which is free to attend and will also be made available for on-demand watching in July.
PART 1: REGULATORY TRENDS IN EUROPE & TURKEY AND THEIR BUSINESS EFFECTS
KEYNOTE 1: The Liechtenstein case and the current trends in international crypto regulation
Dr. Thomas Nägele, Managing Partner, Nägele Attorneys at Law & INATBA board member
KEYNOTE 2: How do international crypto exchanges adapt to new regulatory requirements?
Dimitrios Psarrakis, Head of EU Affairs // Financial Strategy and M&A Lead at XReg Consulting & Co-Chairman of the Finance Working Group at INATBA
KEYNOTE 3: The Turkish market: The Status Quo and the Regulatory Outlook
Burcu Tümer, Founding Partner at TBL Legal
PART 2: HOW TO ENABLE REGULATORY COMPLIANCE - THE TECHNO-STRATEGIC VIEW?
KEYNOTE: Where is the market heading - which are the key trends?
John Calian, CEO RIDDLE&CODE
CASE STUDY: How to develop future-proof systemic capabilities around custody?
Enes Türk, Product Manager, RIDDLE&CODE FinTech Solutions
PART 3: HOW TO BEST PREPARE FOR INCOMING REGULATION - THE DEBATE?
Panel moderated by Ihsan Elgin, Co-Founder FINTECH ISTANBUL
Panelists:
Dimitrios Psarrakis, Head of EU Affairs // Financial Strategy, XReg Consultancy, INATBA Working Group Chair
Burcu Tümer, Founding Partner at TBL Legal
Sebastian Becker, CCO, RIDDLE&CODE