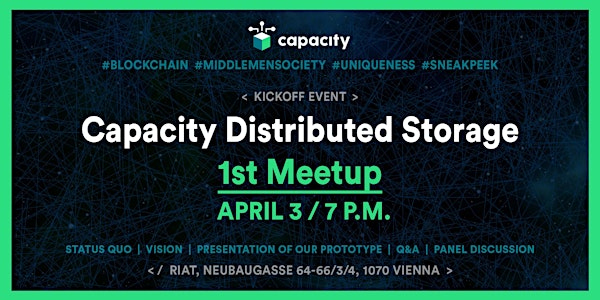 Capacity Distributed Storage - Kickoff Event
Veranstaltungsort
RIAT
Neubaugasse 64-66/3/4
1070 Wien
Austria
Capacity introduces a preview of its unique blockchain-based Distributed Storage solution in the course of the Vienna Blockchain Week!
Zu diesem Event
'Capacity Blockchain Solutions' announces its first event!
In the course of the 'Vienna Blockchain Week', on April 3rd at 7 pm, we will be giving an introduction to Distributed Storage - and demoing a preview of our solution at RIAT (Neubaugasse 64-66/3/4, 1070 Wien).
#middlemensociety
The popularity of cloud storage-based services has increased rapidly in recent years. Most people are aware of their major drawbacks. Among SPOF (Single Point of Failure) affecting the availability of data, there is also the issue of privacy. Centralized companies that operate as middlemen between the user and their content have control over their data, including the ability to access them. Any user is exposed to these risks.
#dataownership
Capacity has developed software and a set of smart contracts that provide peer-to-peer data persistence and enough network intelligence to operate without any middlemen.
#uniqueness
Our network provides guaranteed availability of data over a predefined time period in a fully decentralized manner independent of the original source. None of the existing blockchain-based storage projects are able to solve this, a guaranteed availability of data suited for supply chain metadata, certificates and time-stamped documents.
#sneakpeak
Secure and redundant storage of critical files that are replicated across a distributed network. The availability is reliably secured by the use of blockchain technology and an incentive-based system creating an open storage marketplace leading to reduced operational expenses (OPEX).
Agenda for the evening:
Introduction and outline of the status quo
Vision statement
Presentation of our Prototype
Q&A
Panel discussion
Andreas Petersson, CEO, Capacity
Robert Kaiser, Linux & Web Expert, Capacity
Franz Eigel, Project Manager, Capacity
Matthias Tarasiewicz, Director, RIAT
Stefan Grüll, Founder, STEEL but SMART
Florian Schirg, Project Manager, accent Gründerservice
6. Networking
Join our Meetup Network and attend to our Meetup Event!
Also, visit our Website for further information!