Dieses Event ist beendet.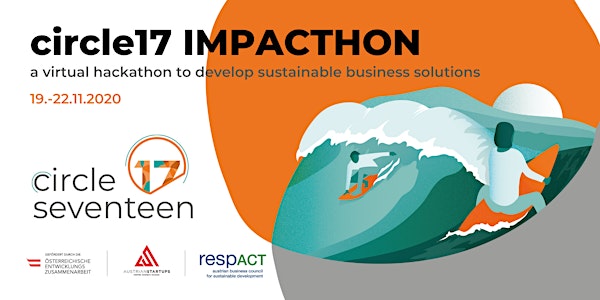 circle17 IMPACTHON
Virtual Hackathon - A 3-day event to unite for the development of sustainable business solutions
Zeit und Ort
Veranstaltungsort
Ankündigung folgt
Zu diesem Event
The circle17 Impacthon is a virtual hackathon uniting the corporate- and non-profit sector, with Social Innovators for the development of sustainable business solutions. To unite to hack for social impact.
circle17 is looking for Innovators with ideas to tackle sustainability challenges in the areas of Energy & Climate, Environment, Finance, People & Safety, Products & Services, Value Chains.
This Impacthon is a call for action to each and everyone, to each and every organisation and to each and every startup, who dares to think, look, and unite to pivot towards resilient change.
Are you ready to work on new resilient products- and services?
REGISTER NOW:
Register as a Social Innovator !
Register as Challenge Lead !
Register as a Mentor !
Suggest a Sponsorship !
For more Information go to:
ABOUT CIRCLE17
circle17 is a development programme that brings startups- and corporates together to explore boundaries. Stretch them, and find innovations in the diversity that emerges in the overlap. It's fun. It's vibrant. And in this fast-changing world, it's essential. In order to collectively work towards a more resilient economy of Austria.
circle17 is managed by the two non-profit organisations respACT - austrian business council for sustainable development and AustrianStartups and is funded by the Austrian Development Agency (ADA). circle17 is a programme that fosters corporate- and startup collaboration for the design of sustainable business models to the current sustainability challenges posed within business- and society at larger scale. These partnerships contribute to the achievement of the UN Sustainable Development Goals.
Stay up-to-date on our Social Channels - Facebook, LinkedIn and Instagram - or visit the circle17 website.