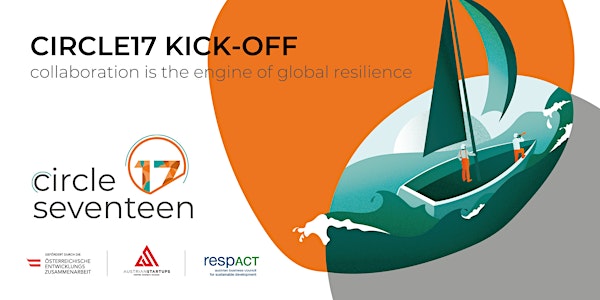 CIRCLE17 KICK-OFF: collaboration is the engine of global resilience
COLLABORATION IS THE ENGINE OF GLOBAL RESILIENCE
About this event
(Find the German version below)
Welcome to the circle17 Kick-off! An online event in which we'll explore the opportunity that lies with collaboration and the Sustainable Development Goals (SDGs) to build resilient businesses that persist, adapt and transform in the face of change.
Join and get inspired by our virtual panel that will shed light onto the opportunities & challenges of partnerships between startups, corporates and NPOs for a crisis-proof future.
How can your business become more resilient, and meet the Sustainable Development Goals?
What opportunities lie in corporate- startup collaboration, as tool and instrument for building economic resilience?
How can you play a role and collaborate in shaping the future for the better through circle17?
Moreover, learn from the success stories from circle17 alumni, who will share how corporate & NPO collaboration has enabled them to move their sustainable startups forward.
On top of that you will learn how you can participate at circle17, and find potential partners yourself for a better future for all of us.
-
ABOUT THE EVENT
This event is for free and will be held in English. However, questions can always be raised in German as well.
Panelists:
Marcel Aberle, Managing Director Zukunftsinstitut Österreich
Karin Huber-Heim, Academic Programme Director at University of Applied Sciences BFI Vienna and TeachSDGs Ambassador
Edward Feltmann, Start-up Engagement Manager VERBUND
Davorin Barudzija, Teach for Austria
Success stories:
Host:
Daniel Cronin, Co-Founder AustrianStartups
Location:
Online - you will receive a link to the event via a follow-up mail, upon registration. The event will be recorded until the break-out sessions, and uploaded on Youtube and social media - keep that in mind while attending ;)
—
INTERESTED IN PARTICIPATING?
There are six different tickets available - a start-up, NPO, enthusiast and a corporate ticket as well as tickets for our circle17-Team and one for our speakers. All six are free of charge, but this way we can better plan ahead.
Secure your place right now and register for the circle17 Kick-Off!
We are looking forward to a vibrant exchange!
—
ABOUT CIRCLE17
circle17 is a development programme that brings startups- and corporates together to explore boundaries. Stretch them, and find innovations in the diversity that emerges in the overlap. It's fun. It's vibrant. And in this fast-changing world, it's essential. In order to collectively work towards a more resilient economy of Austria.
circle17 is managed by the two non-profit organisations respACT - austrian business council for sustainable development and AustrianStartups and is funded by the Austrian Development Agency (ADA). circle17 is a programme that fosters corporate- and startup collaboration for the design of sustainable business models to the current sustainability challenges posed within business- and society at larger scale. These partnerships contribute to the achievement of the UN Sustainable Development Goals.
Stay up-to-date on our Social Channels - Facebook, LinkedIn and Instagram - or visit the circle17 website.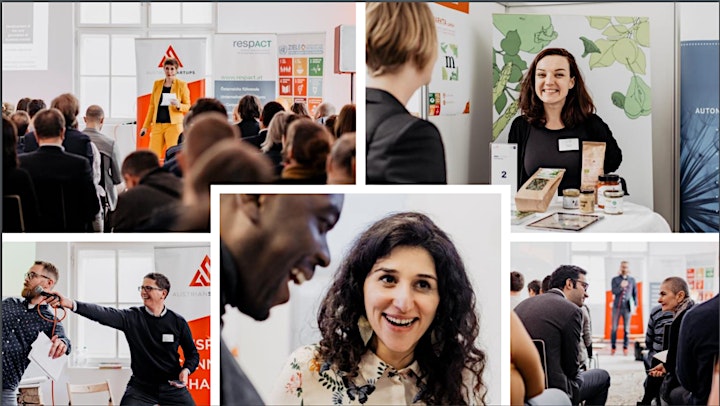 circle17 Kick-off
"Kollaboration ist der Antrieb nachhaltiger Resilienz"
Willkommen zum Kick-off von circle17! Eine Online-Veranstaltung, bei der die Möglichkeiten von Partnerschaften und den Zielen der nachhaltigen Entwicklung (Sustainable Development Goals, SDGs) ausgelotet werden, um resiliente Unternehmen aufzubauen, die trotz der Herausforderungen des Wandels fortbestehen, sich anpassen und transformieren.
Nehmt teil und lasst euch von unserem virtuellen Panel inspirieren, das die Chancen & Herausforderungen von Partnerschaften zwischen Start-ups, Unternehmen und NPOs für eine krisensichere Zukunft beleuchtet.
Wie kann euer Unternehmen widerstandsfähiger werden und die Ziele der nachhaltigen Entwicklung erreichen?
Welche Chancen liegen in der Zusammenarbeit zwischen Unternehmen und Start-ups als Werkzeug und Instrument zum Aufbau wirtschaftlicher Widerstandsfähigkeit?
Wie könnt ihr eine Rolle spielen und gemeinsam mit circle17 die Zukunft zum Besseren gestalten?
Die Erfolgsgeschichten der Alumni von circle17 zeigen, welche Innovationen nachhaltige Start-ups voranbringen können.
Darüber hinaus erfahrt ihr, wie ihr an circle17 teilnehmen und selbst potenzielle PartnerInnen finden könnt.
-
ÜBER DIE VERANSTALTUNG
Diese Veranstaltung ist kostenlos und wird auf Englisch abgehalten. Fragen können jedoch immer auch auf Deutsch gestellt werden.
Moderator:
Daniel Cronin, Co-Founder AustrianStartups
DiskussionsteilnehmerInnen:
Marcel Aberle, Geschäftsführer Zukunftsinstitut Österreich
Karin Huber-Heim, Programmdirektorin an der Fachhochschule BFI Wien und TeachSDGs Botschafterin
Edward Feltmann, Start-up Engagement Manager VERBUND
Davorin Barudzija, Teach for Austria
Erfolgsgeschichten:
Ort:
online - nach der Anmeldung erhaltet Ihr in einer Folgemail einen Link zu der Veranstaltung. Die Veranstaltung wird bis zu den Break-out-Sitzungen aufgezeichnet und auf Youtube und Social Media hochgeladen - denken Sie daran, wenn Sie an der Veranstaltung teilnehmen ;)
—
AN EINER TEILNAHME INTERESSIERT?
Es sind sechs verschiedene Tickets erhältlich - ein Start-up-, ein NPO-, ein Enthusiast- und ein Firmenticket sowie Tickets für unser circle17-Team und eines für unsere ReferentInnen. Alle sechs sind kostenlos, aber auf diese Weise können wir besser vorausplanen.
Sichert Euch jetzt gleich einen Platz und meldet euch für den Kick-Off von circle17 an!
Wir freuen uns auf einen lebhaften Austausch!
—
ÜBER CIRCLE17
circle17 ist ein Programm, das Start-ups und Unternehmen zusammenbringt, um ihre Grenzen auszuloten. Sie zu erweitern. In der Vielfalt, die in Überschneidungen entsteht, Innovationen zu finden. Spaß dabei zu haben. Und dabei ihren Purpose zu verfestigen. Denn in dieser sich schnell verändernden Welt ist es essentiell, zur Resilienz der gesamten österreichischen Wirtschaft beizutragen.
circle17 wird von den beiden Non-Profit-Organisationen respACT - austrian business council for sustainable development - und AustrianStartups geleitet und von der Austrian Development Agency (ADA) finanziert. circle17 ist ein Programm, das die Zusammenarbeit von Unternehmen und Start-ups bei der Gestaltung nachhaltiger Geschäftsmodelle zu den aktuellen Nachhaltigkeitsherausforderungen in Wirtschaft und Gesellschaft in größerem Maßstab fördert. Diese Partnerschaften tragen zur Erreichung der UN-Ziele für nachhaltige Entwicklung (Sustainable Development Goals) bei.
Bleibt auf dem Laufenden und folgt uns auf Facebook, LinkedIn und Instagram oder schaut auf unserer Website vorbei!