Dieses Event ist beendet.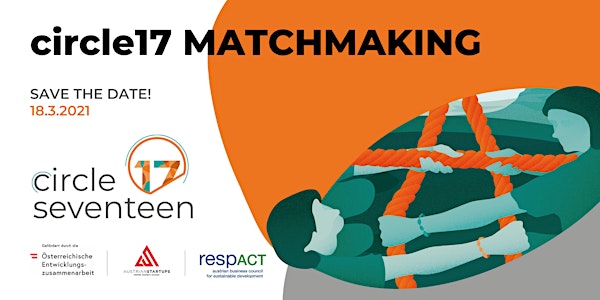 circle17 MATCHMAKING
Matchmaking Game Changers with their Future
Zeit und Ort
Veranstaltungsort
Ankündigung folgt
Zu diesem Event
THE MATCHMAKING EVENT TAKES PLACE IN THE TOOL B2MATCH!
18.3.2021
online
Register now via our Matchmaking Platform B2Match and find you missing piece to the puzzle!
IT'S A MATCH!
🌿Are you a business whose aim is to move the needle, and are you eager to interact with change drivers, who could inspire you along your corporate sustainability journey?
🚀Are you a sustainability and social-driven start-up with a market-ready innovation, you would like to showcase to a large audience of corporates and investors?
🌍Are you a non-profit-organisation or a researcher working towards the accomplishment of the Sustainable Development Goals (SDGs)?
🤝Join us at the circle17 Matchmaking and experience how a unique matchmaking process between companies and sustainability- and social-driven start-ups could benefit you!
This event unites the sustainable entrepreneurship community to create meaningful change in alignment with the SDGs.
We have tailored experiences for each and every one of you, that include:
- an inspiring panel discussion
- Matchmaking meetings with potential partners
If you have any questions reach out to Fanny Hofbauer via f.hofbauer@respact.at
About circle17
circle17 is a development programme that brings startups- and corporates together to explore boundaries. Stretch them, and find innovations in the diversity that emerges in the overlap. It's fun. It's vibrant. And in this fast-changing world, it's essential. In order to collectively work towards a more resilient economy of Austria.
circle17 is managed by the two non-profit organisations respACT - austrian business council for sustainable development and AustrianStartups and is funded by the Austrian Development Agency (ADA). circle17 is a programme that fosters corporate- and startup collaboration for the design of sustainable business models to the current sustainability challenges posed within business- and society at larger scale. These partnerships contribute to the achievement of the UN Sustainable Development Goals.
Stay up-to-date on our Social Channels - Facebook, LinkedIn and Instagram - or visit the circle17 website.