Dieses Event ist beendet.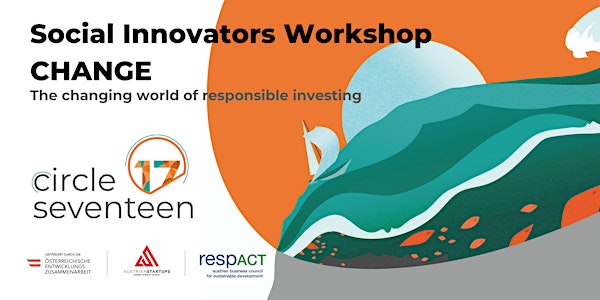 circle17: THE CHANGING WORLD OF RESPONSIBLE INVESTING
circle17 Social Innovators Workshop
Zeit und Ort
Veranstaltungsort
Ankündigung folgt
Zu diesem Event
ABOUT THIS EVENT
(find german below)
In the workshop "The changing world of responsible investing" we will take a closer look at the subject of impact investing. After an introduction into the topic, representatives from various sectors will discuss the relevance and necessity of sustainability considerations in the investment sector.
AGENDA
18:00-18:05 Opening by circle17
18:05-18:15 Introduction to impact investing by Simone Pies
18:15-18:45 Panel Discussion
18:45-19:00 Speed Networking
PANELISTS
Simone Pies, Business Angel
Philipp Stangl, CEO & CO-Founder Rebel Meat
Reinhard Millner, Head of Social Entrepreneurship Center WU Wien
Günter Benischek, ERSTE Bank Stiftung Social Banking
circle17 is an Austrian Initiative led by respACT – austrian business council for sustainable development – and AustrianStartups, which unites the corporate- and startup ecosystem to share and rapidly develop ideas to urgent sustainability challenges. More information about circle17 can be found here.
One of the core elements of the 8-month programme is the circle17 online impacthon, a 3-day hackathon in which start-ups, corporates and motivated individuals face the defined sustainability challenges and develop solutions together. In order to raise awareness for the initiative and to prepare potential participants for the impacthon in the best possible way, three workshops will be held in the run-up to the impacthon.
–> Secure your place right now and register for the circle17 impacthon here!
Stay up-to-date on our Social Channels - Facebook, LinkedIn and Instagram - or visit the circle17 website.
_
This event is for free and will be held in English. However, questions can always be raised in German as well.
Location:
Online - you will receive a link to the event via a follow-up mail, upon registration.
ÜBER DIESE VERANSTALTUNG
circle17 ist eine österreichische Initiative unter der Leitung von respACT – austrian business council for sustainable development – und AustrianStartups, die das Unternehmens- und Startup-Ökosystem vereint, um Ideen zu dringlichen Nachhaltigkeitsherausforderungen auszutauschen und rasch zu entwickeln. Mehr Informationen über circle17 findet ihr hier.
Eines der Kernelemente des 8-monatigen Programms ist der circle17 online impacthon, ein 3-tägiger Hackathon, bei dem Start-ups, Unternehmen und motivierte Einzelpersonen sich den definierten Nachhaltigkeitsherausforderungen stellen und gemeinsam Lösungen dafür entwickeln. Um das Bewusstsein für die Initiative zu schärfen und potenzielle TeilnehmerInnen bestmöglich auf den Impacthon vorzubereiten, werden im Vorfeld drei Workshops durchgeführt.
-> Sichert euch schon jetzt einen Platz und meldet euch hier für den circle17 impacthon an!
Im Workshop "The changing world of responsible investing" werden wir uns näher mit dem Thema Impact Investing befassen. Nach einer Einführung in das Thema werden VertreterInnen verschiedener Sektoren die Relevanz und Notwendigkeit von Nachhaltigkeitsbestrebungen im Investmentsektor diskutieren.
*ReferentInnen, Panel TeilnehmerInnen sowie detaillierte Agenda werden noch bekannt gegeben.*
Bleibt auf dem Laufenden und folgt uns auf Facebook, LinkedIn und Instagram oder schaut auf unserer Website vorbei!
_
Diese Veranstaltung ist kostenlos und wird auf Englisch abgehalten. Fragen können jedoch immer auch auf Deutsch gestellt werden.
Ort:
Online - nach der Anmeldung erhaltet Ihr in einer Folgemail einen Link zur Veranstaltung.