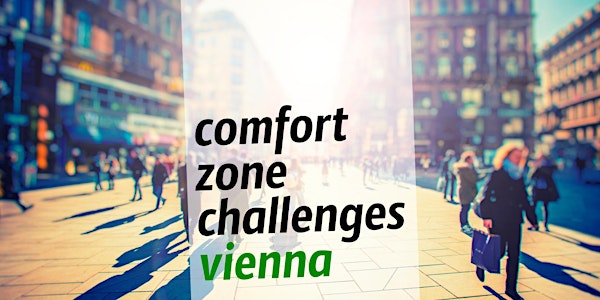 comfort zone challenges'vienna #43
A comfort zone challenge meetup (German & English-speaker welcome!)
When and where
Location
Museumsquartier Museumsquartier 1070 Wien Austria
About this event
(EN) This is a meetup to do comfort zone challenges in small groups. We'll be meeting at the defined time and location. After the introduction we'll go out in groups and do our challenges, and then reflect on them.
Be aware that consuming alcohol is discouraged (until reflection). Also make sure you have enough time to attend the event until the end, since the reflection is an important part of the process and a good chance to let the other participants learn from your experience.
For all communication and coordinating through the event we use a Telegram group, make sure to join beforehand: https://t.me/czc_vienna
(DE) Dieses ist ein Meetup, um gemeinsam (in kleinen Gruppen) Komfortzonenübungen zu machen. Wir treffen uns am definierten Ort und Zeit. Nach einer Einleitung gehen wir in Gruppen raus und machen die Komfortzonenübungen, danach eine Reflektion.
Bitte beachten, keinen Alkohol bis zur Reflektion zu konsumieren. Nimm dir genügend Zeit um an dem Event bis zum Ende teilzunehmen, da die Reflektion ein wichtiger Teil der Übung ist und auch die anderen Teilnehmer stark von deinen Erfahrungen profitieren können.
Für die Kommunikation und Koordination durch das Event benutzen wir eine Telegram Gruppe, schließe dich der Gruppe am besten vorher an: https://t.me/czc_vienna
-----
(EN) talkin' is an event series focusing on personal development by organizing Social Adventures. We believe that the best way to grow as a person is to go out of your comfort zone, and have fun along the way. You don't think that's possible? Come and join us and see for yourself! In this group we speak both english or german, so joing as a local or international.
Maximum participants: 20 people. Please only attend if you register here.
talkin' is a growing organazation, that organzies events currently in three countries: http://www.talkin.org/
talkin' is a non-profit organisation, that creates an environment for amateurs and non-professionals to run Social Adventures and City Challenges.
(DE) talkin' ist eine Event Serie die sich, durch das Organisieren von Sozialen Abenteuern, auf die Persönliche Weiterentwicklung fokussiert. Wir glauben das der beste Weg um als Person zu wachsen der ist aus seiner Komfortzone auszutreten und spaß dabei zu haben. Du glaubst nicht das dass möglich ist? Komm vorbei und mach mit dann wirst du es sehen! In dieser Gruppe sprechen wir beides, Englisch und Deutsch, komm vorbei ob von hier oder aus'm Ausland, wir freuen uns auf dich.
talkin' ist eine wachsende Organisation, die aktuell Events in drei Ländern veranstalten. Alle Informationen hier: http://www.talkin.org/
talkin' ist eine gemeinnützige Organisation, wir versuchen ein Umfeld zu schaffen, in dem Amateure und Nicht-Professionals Soziale Abenteuer und City Challenges machen können.
your citychallenge'vienna - team ❤️
Photo credit: vitomirov/iStockPhoto