Dieses Event ist beendet.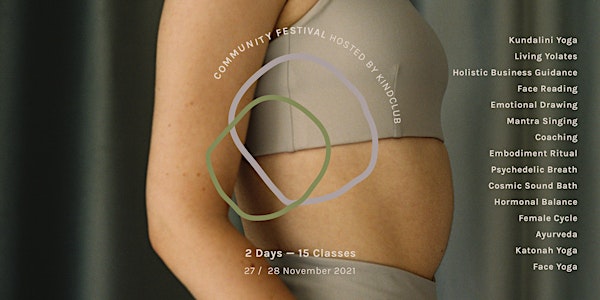 Community Festival #2 — 2 Days. 15 Classes.
COMMUNITY FESTIVAL hosted by kindclub — 2 days. 15 classes.
Rückerstattungsrichtlinie
Keine Rückerstattungen
Zu diesem Event
Join us and a bunch of inspiring contributors for an exciting weekend of wellbeing and community!
Immerse yourself and enjoy a carefully selected programme filled with Meditation, Female Health, Hormonal Balance in Ayurveda, Face Reading, Kundalini - and Katonah Yoga, Holistic Business Guidance, Mantra Singing Circle, Living Yolates, Emotional Drawing, Psychedelic Breath, Face Yoga and a Cosmic Sound Bath.
These days will not only introduce you to new people, practices and knowledge, but most importantly connect us as community.
Bringing the good vibes home to you.
Two days full of great and unique workshops by our friends & contributors: James Dowler, Fattima Loreen, Yasemin Vollmond, Rollingtiger Berlin, Julia Freidl / Y.lab, Matcha Mornings, ABOUTTHATFLOW, ALLGOODYOGA, Weronika Marianna, Simone Stocker, Laura Israel, Eva Teja, Every Day Hero, Get Face Fit & Chloe De Ruffray.
TICKETS:
1 Day Ticket // 59 €
Weekend Pass // 99 € (Saturday & Sunday)
This event takes place online - via Zoom. This event will not be recorded.
INFOS:
If you have questions, feel free to contact us via hi@kindclub.space
We are so much looking forward to seeing you!