Dieses Event ist beendet.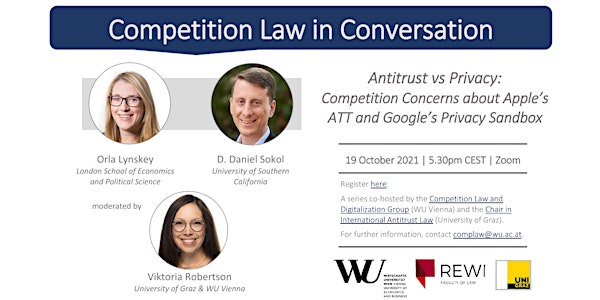 Competition Law in Conversation: Antitrust vs Privacy
Competition Law in Conversation with Orla Lynskey and Danny Sokol on Antitrust vs Privacy: Apple's ATT and Google's Privacy Sandbox
Zu diesem Event
In the digital economy, many questions find themselves at the intersection of competition law and data protection. The impending replacement of third-party cookies on Chrome with Google's own Privacy Sandbox and the introduction of Apple's App Tracking Technology (ATT) raise the question: Could there be competition concerns when big tech platforms introduce more privacy-friendly tools? Join us on 19 October 2021 (5.30pm Vienna) when we discuss this issue with Orla Lynskey (LSE) and Danny Sokol (USC), moderated by Vicky Robertson (WU Vienna and University of Graz).