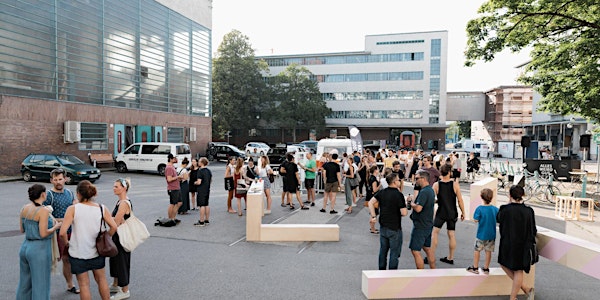 Creative Speedathon in der Tabakfabrik Linz
Lerne in lockerer Atmosphäre Firmen aus anderen Branchen kennen und besprich mit ihnen bei Bier oder Makava mögliche gemeinsame Projekte.
When and where
Location
Creative Region in der Tabakfabrik Linz Peter-Behrens-Platz 8-9 4020 Linz Austria
About this event
Jede Beziehung beginnt mit einem gegenseitigen Kennenlernen – im Privatbereich wie im Business-Umfeld. Bei unserem Creative Speedathon am 8.Juli geht es genau darum: um das Kennenlernen und Vernetzen von Creatives mit Unternehmen aus anderen Branchen.
Ziel ist es, dich und andere Kreativschaffende noch näher an potenzielle Kund*innen und Kollaborationspartner*innen aus der Industrie heranzuführen und dir die Möglichkeit zu geben, dich konkret mit ihnen auszutauschen bzw. erste gemeinsame Schritte zur Lösung von dringenden Problemen zu besprechen.
Speedathon, hä?
In der lockeren Atmosphäre der Tabakfabrik Linz stellen sich ausgewählte Firmen in kurzen Pitching-Sessions vor und erzählen von ihren aktuellen Herausforderungen. Anschließend geht's zum "Speed Dating" mit dir und den anderen anwesenden Creatives.
In One-to-One-Sessions bekommst du die Gelegenheit, dich auf Augenhöhe mit den Unternehmen zu unterhalten und im Gespräch zu erfahren…
… wie das Industrie-Unternehmen funktioniert
… was seine aktuellen und zukünftigen Challenges sind
… wo die Anknüpfungspunkte sind und
… wie Innovationen mit deiner Hilfe vorangetrieben werden können
Nach ein paar Minuten wird gewechselt und das Kennenlernen beginnt von Neuem. Danach geht's mit Bier oder Makava zum weiteren Netzwerken und Pläne schmieden!
Save the date & register!
Wann: Donnerstag, 8. Juli 2021 ab 16 Uhr
Wo: Tabakfabrik Linz, Peter-Behrens-Platz 8-9, 4020 Linz
bei Schönwetter im Hof der Tabakfabrik
bei Schlechtwetter in der Strada del Startup
Was: Spannende Menschen und Projekte, kalte Getränke und sommerliche Speisen
Wie: Kostenlose Anmeldung via Eventbrite bis 30. Juni 2021
Hinweis: wir planen natürlich auf Basis der aktuellen Covid19-Regelungen.
Welche Firmen sind vor Ort?
Umdasch Venture Group - Maria Tagwerker-Sturm, Digital Retail Innovations
Wiesner Hager - Herbert Mödlhammer, Leiter Profit Center OÖ/SBG
Greiner - Stefan Grafenhorst, Head of Sustainability & Corporate Responsibility
HARATECH GmbH - Manfred Haiberger, Founder & CEO
INFABITY Innovation GmbH - Manfred Haiberger, Founder & CEO
Gemba-sports GmbH - Michaela Haiberger
Rosenbauer - Bernhard Kaliauer, Industrie Designer
Silhouette International - Roland Keplinger, Design Director
In den kommenden Tagen werden wir hier bzw. via Social Media noch weitere teilnehmenden Unternehmen vorstellen – stay tuned!
Ist das was für mich?
Klar! Spar dir die Kalt-Akquise und komm' direkt mit interessierten Unternehmen ins Gespräch. Lerne Industrieunternehmen aus der Region kennen, erzähle ihnen von deinen Projekten und Services und tausche dich mit ihnen über aktuelle Herausforderungen aus.
Konkret heißt das: Melde dich zum Speedathon an, wenn du in der Kreativwirtschaft – z.B. als Designer*in, Architekt*in oder Agentur tätig bist und Interesse hast an…
neuen, spannenden Projekten und Aufträgen
der Zusammenarbeit mit Unternehmen aus unterschiedlichen Branchen
der gemeinsamen Entwicklung von Produkten und Services MIT deinen Kund*innen
der Entdeckung von Neuem auf Augenhöhe mit deinen Partner*innen
Wanted: Unternehmen, die Veränderung suchen & Creatives, die verändern wollen!
Du willst dein Unternehmen beim Speedathon vorstellen und dich mit Kreativschaffenden vernetzen? Dann melde dich gerne bei wolfgang@creativeregion.org.
Credits Bild: voggeneder photo