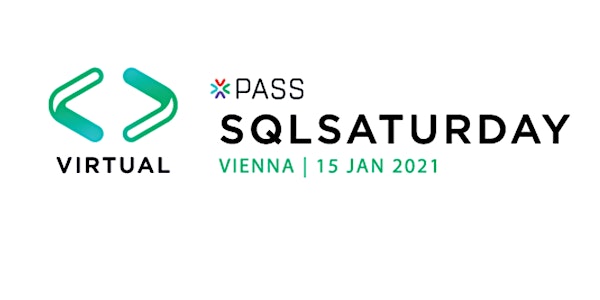 Data Event Vienna 2021 - SQL Saturday Vienna 2021 (Virtual)
Join us for the Microsoft DataPlatform Event 2021 (also known as SQLSaturday Vienna 2021)
About this event
Welcome to the Vienna SQLSaturday / Data Event 2021 fallback registration page.
As PASS Global stops all the operations on January 15th, 2021, we had to create a fallback solution for the registration process for our #SQLSatVienna 2021 event.
We do not know when the PASS systems will stop working, if they will stop working before January 15th, how they will continue to work until then..
Therefore - PLEASE: register here to get all the information you need for the #SQLSatVienna 2021 event!
We will use Microsoft TEAMS – each track will have it's own dedicated daylong meeting:
Room 1 – Administration https://aka.ms/SQLSatVienna-Room1-Admin
Room 2 – App & DB Dev https://aka.ms/SQLSatVienna-Room2-AppDbDev
Room 3 – Cloud, AI, ML 1 https://aka.ms/SQLSatVienna-Room3-CloudAi1
Room 4 – Cloud, AI, ML 2 https://aka.ms/SQLSatVienna-Room4-CloudAi2
Room 5 – Power BI & Power Platform 1 https://aka.ms/SQLSatVienna-Room5-PowerBI1
Room 6 – Power BI & Power Platform 2 https://aka.ms/SQLSatVienna-Room6-PowerBI2
In between – let's meet in the Lobby https://aka.ms/SQLSatVienna-Lobby
Interactive page: https://www.sqlsaturday.com/1015/Sessions/Schedule
Thank you
PASS Austria (DataCommunity Austria)