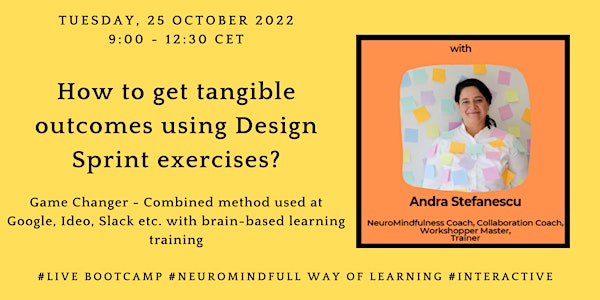 Design Sprint Bootcamp
How to get tangible outcomes using Design Sprint exercises?
Refund Policy
Refunds up to 7 days before event
About this event
Are these challenges familiar to you?
- Do you often deal with unclear goals and miscommunication that cause busy work and overtime?
- Do you or your team deal with long development cycles and frustration out of this?
- Do you experience endless discussions with too little valued outcome?
- Do you waste your time and energy developing products and have only at the end feedback from real users?
If you answered YES to the majority of the above questions then save your spot to Design Sprint Bootcamp! You will find out how to deal with these challenges.
At the end of the session you will be able to:
- Explain what a Design Sprint is and when to use it, why it helps to solve the challenges you have
- Share your experience from practicing 2 Design Sprint exercises that can be applied in daily job as well while solving your problems as well
- Follow your own action plan to use what you learned in your daily job and get rid of the problems you have right now
The session will be held in English.
To participate in this session you will need:
1. a computer (desktop or notebook; tablet or phone are only suitable as an additional second device),
2. a live streaming camera ready for use,
3. an adequate sound system (please test it in advance with a friend to make sure everything works best!),
4. a printed (analog) copy of your Design Sprint Bootcamp graphical organizer or a digital version on your tablet where you can take handwritten (!) notes. (Background: handwriting (not typing) is an essential component of brain-based learning). – you will receive this by email upfront the session
5. link for the zoom call – it will be sent in the invitation in your calendar
6. various analog materials: paper, pen, sticky notes, colors
7. to have the pre-work (around 20min) before the event, details will be sent by email (which will be fun )
Trainer:
Andra Stefanescu - certified TBR (Training from the back of the room ) practitioner, Sprint Design Facilitator
Link to trainer page: https://www.asinnovativeminds.com
https://www.linkedin.com/in/andracristianastefanescu
PS. Do you want to book this course exclusively for your team? Please contact us to learn more about our in-house version at contact@asinnovativeminds.com
Learn more about what participants say about this and other sessions made by the same trainer on Design Sprint Bootcamps: