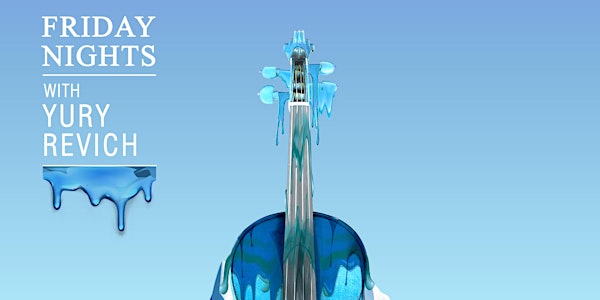 Die schmelzende Welt *AUSVERKAUFT*, Warteliste - office@fnights.com
Gemeinsam mit Musik, Kunst und Theater für die Zukunft!
When and where
Location
Atelierhaus der Akademie der bildenden Künste Wien Lehargasse 8 Tor 2 Prospekthof 1060 Wien Austria
About this event
Wir sind *** ausverkauft *** !
Vielen Dank für das Vertrauen und das große Interesse an unserer Veranstaltung.
Falls verfügbar, werden in der letzten Woche vor dem Konzert Restkarten verkauft. Wenn Sie auf der Warteliste dafür stehen möchten, bitte schreiben Sie uns an office@fnights.com .
Ihr,Friday Nights Team
--- ENGLISH ---
We are *** sold out *** !
Thank you for your support and interest in our event.
We are opening a waiting list for tickets, which may be available for sale. If you wish to be on the waiting list, please write us on office@fnights.com .
Yours,
Team Friday Nights
KünstlerInnen:
Yury Revich, ECHO und ICMA Preisträger, Violine: Stradivari aus dem Jahr 1709 (Goh Foundation)
Michael Maertens (Burgtheater Star)
Nathan Trent (Eurovision Song Contest Star)
Florian Teichtmeister (Burgtheater und TV-Star)
Valentina Nafornita (Staatsopernstar)
Markus Freistätter (Schauspieler)
Sara Domjanic (Violine)
Claudius von Stolzmann (Theater and der Josefstadt und TV-Star)
Kimberly Rydell (Sängerin, Film- und TV)
Ian Fisher (Songwriter, Theater an der Josefstadt)
Lars Schwander (Komposition)
Yuliya Draganova (Klavier)
Benoit Benichou (Visuals)
Florian Amort (Forschung)
MY Sounds Ensemble
Und viele mehr...
Ehrengäste:
MA48
Monika Langthaler (Austrian World Summit)
Höhepunkt des Concert of Arts "Die schmelzende Welt" ist eine Neukomposition des Violinisten und Festivalleiters Yury Revich (Dauer: 10-15 Min.), das aus von berühmten Komponist*innen ungenutzt gebliebenen Musikthemen besteht und eigens für dieses Konzert kreiert wird.
Dieses "weggeworfene" musikalische Material wird durch diesen Recyclingprozess neues Leben eingehaucht und dem Publikum erstmalig zugänglich gemacht werden und zeigen, dass auch diese Melodien, analog zu alltäglichen Gegenständen in unserem Leben, eine Qualität haben und einen neuen Sinn bekommen können.
Verschmutzte Ozeane, verpestete Luft: Die Klimakrise betrifft uns ganz persönlich, denn wenn wir nicht die Negativspirale stoppen, sehen wir uns in Zukunft täglich mit einem immer schneller steigenden Meeresspiegel, mit Überschwemmungen, extremen Hitzewellen und Brandkatastrophen konfrontiert.
Auch die Kunst kann und muss dahingehend die Gesellschaft sensibilisieren - und gleichzeitig über begrenzte Ressourcen und Recycling in ihrem eigenen Gebiet nachdenken.
Das Thema Ressourcenknappheit verbindet das Konzert mit dem Beethoven-Jahr, wenn aus Mangel eines Symphonieorchesters eine Streichsextett-Fassung von Beethovens Symphonie Nr. 6, F-Dur, "Pastorale" erklingt.
Die Sextett-Bearbeitung von Ludwig Fischer verweist allerdings nicht nur auf eine häusliche Musizierpraxis des 19. Jahrhundert, sondern lenkt auch den Blick auf die musikalische Struktur, den kontrapunktischen Satz der Symphonie. Umrahmt werden alle drei Teile durch Lieder für Singstimme und Klavier / Streicherbegleitung, die auf lyrische Weise die Schönheit der Natur besingen und zugleich poetische Welten erschließen.
Das Event findet in Kooperation mit MA48, Austrian World Summit und UNICEF Österreich statt.
2- Euro von jeder Eintrittskarte werden an UNICEF Österreich gespendet.
*** ENGLISH VERSION ***
The Melting World
Recycling in music - ideas and sketches of musical themes, that were not used:
Yury Revich will compose a piece, reusing music written by famous composers, that did not make it into their masterpieces but had been "discarded". This will be the highlight of the event - creating something unique and beautiful especially for the concert show. The process of breathing new life into "abandoned" musical material will demonstrate that value is a quality attached to art and objects by us people and thus will inspire the audience to redefine and redeem the value of art and everyday objects in their lives.
The rest of the program will revolve around the different forms of nature in our lives. Vocal and instrumental works will create a vision of the beautiful natural world, which is our collective responsibility and is to be preserved will all our mutual efforts. There will be vocal works and instrumental works. A special tribute to the Beethoven anniversary year and the composer's famous love for nature will be a string sextet performance of part from his Symphony Nr. 6, F-Dur, "Pastorale".
This event takes place in cooperation with MA48, Austrian World Summit and UNICEF Austria. 2- Euro from each entry ticket will be donated to UNICEF Austria.