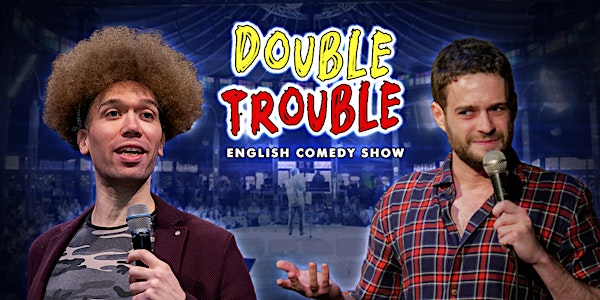 "Double Trouble" - Pro Comedy Double Feature
Stand-up comedy double feature with two of Austria's fastest rising stars! Come laugh with Tamas Vamos (HU) and Reginald Bärris (USA)!
When and where
Location
Tunnel Vienna Live 39 Florianigasse 1080 Wien Austria
Refund Policy
Refunds up to 7 days before event
About this event
𝗖𝗼𝗺𝗲𝗱𝘆'𝘀 𝗯𝗮𝗰𝗸 𝗶𝗻 𝘁𝗵𝗲 𝗧𝘂𝗻𝗻𝗲𝗹 𝘄𝗶𝘁𝗵 𝗧𝗮𝗺𝗮𝘀 𝗩𝗮𝗺𝗼𝘀 (𝗛𝗨) 𝗮𝗻𝗱 𝗥𝗲𝗴𝗶𝗻𝗮𝗹𝗱 𝗕ä𝗿𝗿𝗶𝘀 (𝗨𝗦𝗔)! 𝗧𝘄𝗼 𝗼𝗳 𝗩𝗶𝗲𝗻𝗻𝗮'𝘀 𝗿𝗶𝘀𝗶𝗻𝗴 𝘀𝘁𝗮𝗿𝘀 𝗼𝗳 𝗰𝗼𝗺𝗲𝗱𝘆 𝗮𝗿𝗲 𝗯𝗿𝗶𝗻𝗴𝗶𝗻𝗴 𝘁𝗵𝗲 𝗳𝘂𝗻𝗻𝘆 𝘄𝗶𝘁𝗵 𝘁𝗵𝗶𝘀 𝗵𝗶𝗹𝗮𝗿𝗶𝗼𝘂𝘀 𝗱𝗼𝘂𝗯𝗹𝗲 𝗳𝗲𝗮𝘁𝘂𝗿𝗲 𝘀𝘁𝗮𝗻𝗱-𝘂𝗽 𝘀𝗵𝗼𝘄!
TAMAS VAMOS is a half-Hungarian and half-South African comedian, and is one of the staples of the Vienna comedy scene! He's toured across 15 countries on multiple continents, and his new show "Women, Jobs & Other Distractions" has been a breakaway success! Vamos's storytelling style is a perfect balance of hard-hitting punchlines, (very) dark humor, and political incorrectness!
REGINALD BÄRRIS is a biracial American abroad and offers a unique perspective as he blends cynicism and silliness to effortlessly deliver his densely packed punchlines about race, religion, patriotism, his own foibles, and the world at large! Since appearing on the scene in 2016, Bärris has performed at several major international festivals (Sziget Festival, Utrecht International Comedy Festival, and more) and headlined 60+ cities in more than 20 countries across Europe!
𝗗𝗼𝗼𝗿𝘀 𝗢𝗽𝗲𝗻: 19:30
𝗦𝗵𝗼𝘄 𝗦𝘁𝗮𝗿𝘁𝘀: 20:00
𝗘𝗻𝘁𝗿𝘆: 12€ Online / 15€ Door Price
Or you can get a 𝗙𝗥𝗘𝗘 𝗧𝗜𝗖𝗞𝗘𝗧 by joining our 𝗣𝗮𝘁𝗿𝗲𝗼𝗻 at the VIP Tier: www.patreon.com/TheReginaldBarris
**Pre-sale Ticket holders can skip to the front of the line to check in and get first pick at seats. Tables cannot be reserved in advance. Tickets are available at the door once pre-sale ticket holders have been admitted.**