Location
TUtheSky
BA Gebäude, 11th floor
Getreidemarkt 9
1060 Vienna
Austria
Sales Have Ended
Registrations are closed
Unfortunately, the ticket sale ended. However, if you would like to participate, please come directly to the event venue and we will offer a registration possibility on site.
with Petra Grozdic, CFO at TheVentury | Startup Coach | OKR Lead
About this event
Are you interested in spinning out your research or bringing your innovative ideas to the market put but you don't know what sources of funding are out there and what fits? This workshop offers you an overview of the multiple ways you can monetarily support your endeavour as a scientist and as a founder and puts you in direct contact with stakeholders from the Viennese ecosystem. The event begins with an overview of ways one can fund a new venture by Petra Grozdic, followed by 2 hours of fair-like access to various organizations from the local ecosystem. At the end of the workshop, you will understand the difference between various sources of funding as well as the programs and requirements of the Viennese organizations offering monetary support.
About the speaker
Petra Grozdic - CFO | Startup Coach | OKR Lead
Petra Grozdic is CFO at TheVentury and all about bringing a goal-oriented mindset to organizations. Within her role at TheVentury, she is deeply involved in finance & operations topics, as well as organisational design. In this role, she is making sure to enable the company to be set up for scale. In her work with startups and early-stage founders, she focuses on financial planning, business modelling and goal setting. She holds lectures at universities, incubators and accelerators and coaches founders around these topics. She is involved in the female factor network and passionate about sharing her knowledge and interests with the community.
Check Petra Grozdic on LinkedIn!
Participating Organizations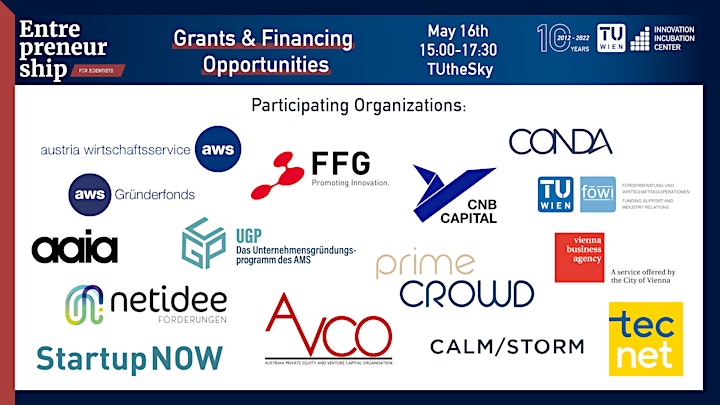 About the Entrepreneurship for Scientists Series
The Entrepreneurship for Scientists Series organized by the TU Wien Innovation Incubation Center (i²c) is targeting scientists who would like to enrich or develop a personal entrepreneurial skillset & business competencies, know more about opportunities how to navigate innovations from "the lab" to society or who would simply like to engage in entrepreneurial thinking. These workshops are free of charge to scientists from all faculties and institutes of TU Wien. This time, we open our gates to the entire community!
Registration required.
_______________________________________________________________________________________