Description

Learn how to model in GAMS in a structured way, followed by state-of-the art energy and power system modeling!
Best practices from seasoned experts
Comprehensive and hands-on four-day course
Build your model from scratch in a step by step approach through several examples

No prior knowledge of GAMS required
This course is for you if you want to...
get familiar with the GAMS language and modeling system

learn how to implement optimization problems in GAMS
learn about state-of-the art methods in energy and power system optimization using GAMS

What you get
Four interactive days filled with content by the experts: presentations, examples, exercises
USB-drive with all presentations, example code, solutions to the exercises, and...
...the latest GAMS system with many solvers: unlimited-size license valid for several weeks after the course
A printed copy of the course material
Daily 3-course business lunches and tea/coffee breaks with snacks & beverages
A certificate upon completion of the course
Booking options
Get the package:
two days general modeling and optimization in GAMS plus two days tailored energy and power systems optimization

Book each of the two-day modules individually
30% student/postdoc discount - email us w/proof of status at info@dr-maindl.com
For payment by invoice write us at info@dr-maindl.com
Details

Schedule: each day starts at 9 am (9:30 am on the first day) and finishes by 6 pm (around 5 pm on the last day).
See below for an overview of the agenda. It will be flexibly adapted depending on the participants' needs and interests.
This is an interactive course - you need to bring your laptops. They need to run Windows® for the GAMS IDE. Make sure that you have GAMS installed or have administration rights to install it at the course.
The venue is within comfortable walking distance from the historic Vienna city centre. Should the hotel be booked out, there are numerous accommodation alternatives close by as well.
Past course reviews
"I'd like to thank you for the training course, also on behalf of the project team. It made a lasting and good impression on all of us. I am convinced that the information we got leaves us well positioned for the further course of our project."

"I learnt GAMS for the first time in my life and it is a very powerful tool. Prof Thomas and Prof Alireza were really good in explaining and addressing the doubts. I am really thankful to them for the course."
"Very Nice - Looking for future workshops."
---
Agenda - days 1 and 2

---
Agenda - days 3 and 4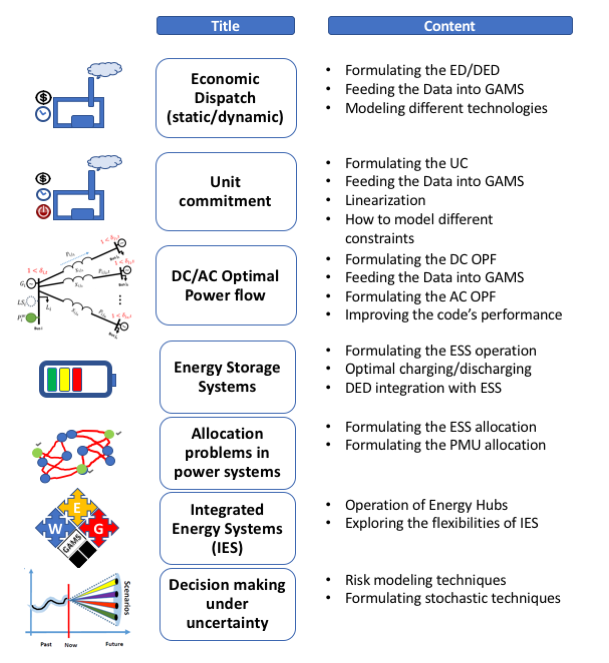 ---
Terms and conditions
Change and cancellation policy: (a) Change of name / participant: anytime, no fee. (

b) Refunds for cancellation by participants for any reason incur a fee of (i) 10% of invoice amount if cancelled more than 30 days before the course, (ii) 50% of invoice amount if cancelled until 10 days before the course. No refunds if cancelled less than 10 days before the course.

(c) In the event of force majeure, including but not limited to sudden illness, Dr. Maindl Consulting's liability is limited to the invoice amount.
In case the minimum of 2 regular or 3 student/postdoc registrations is not reached, the organizer can choose to cancel the event until 30 days before the course. In that case the invoice amount will be fully refunded.
---
Thank you for your interest - w
e are looking forward to an exciting course!
Credits: GAMS is copyrighted by GAMS Development Corp. Microsoft and Excel are either registered trademarks or trademarks of Microsoft Corporation in the United States and/or other countries.