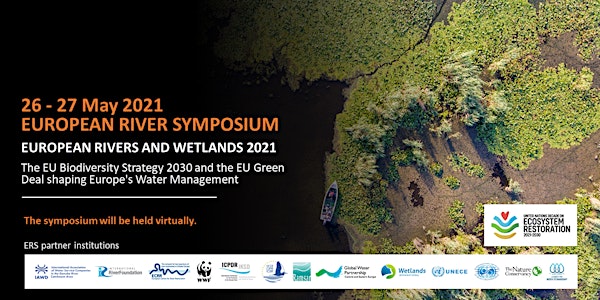 EUROPEAN RIVER SYMPOSIUM 2021
EUROPEAN RIVERS AND WETLANDS 2021: The EU Biodiversity Strategy 2030 and the EU Green Deal shaping Europe's Water Management
Refund Policy
Refunds up to 7 days before event
About this event
REGISTRATION FOR DAY 1 (26 MAY) ENDS ON 26 MAY AT 7.00 CEST - you will receive an automatic confirmation email. Scroll down to see the Zoom links!
REGISTRATION FOR DAY 2 (27 MAY) ENDS ON 27 MAY AT 7.00 CEST - you will receive an automatic confirmation email. Scroll down to see the Zoom links!
The 2021 European River Symposium is a continuation of an effort begun in 2013, with the convening of the first European River Symposium, to strengthen efforts to protect, restore and better manage rivers in Europe. The Symposium will be a forum for presenting information about the state of rivers, highlighting important problems, and bringing examples and initiatives that improve the protection and restoration of rivers. Above all the Symposium will focus on building connections between institutions, organisations and companies with an interest in rivers and whose activities affect the health and quality of river water and ecosystems.
The Symposium will highlight the changes to rivers and specific actions that have been brought about by the European Legislation (the Water Framework Directive) and most importantly the possibilities and opportunities presented by the European Green Deal and European Biodiversity Strategy. These new initiatives provide a significant basis for strengthening the efforts and actions to protect and restore rivers and their associated ecosystems and to ensure that rivers can continue providing services and benefits to people.
The Symposium will focus on:
Providing dynamic panels and discussions that ensure dialogue and interaction among participants.
Ensuring active involvement of sectors which have a big impact on rivers (i.e. agriculture, producing industry, water utilities, energy, navigation, tourism).
Providing an integrated perspective on ecological river restoration to implement the Water Framework Directive and its related Directives.
Participants can purchase single day or two-days tickets and can choose which parallel sessions they would like to attend. Additional information regarding the conference meeting will be provided on a later stage to all participants who have registered and purchased a ticket.
Here you can find the final programme (time expressed in Central European Summer Time - CEST) of the event.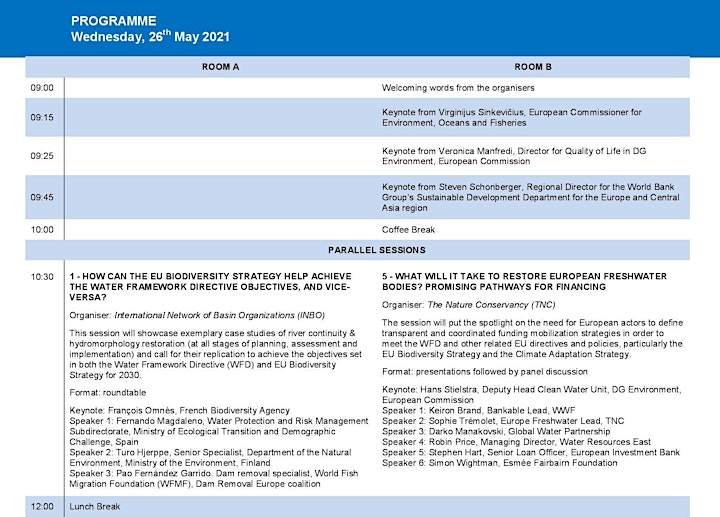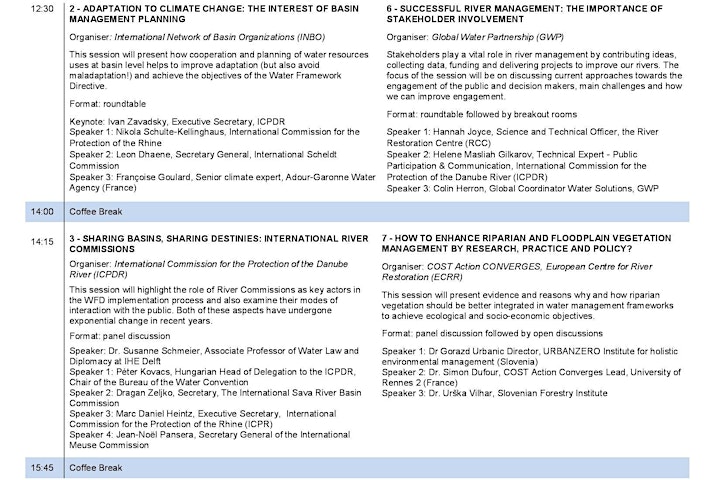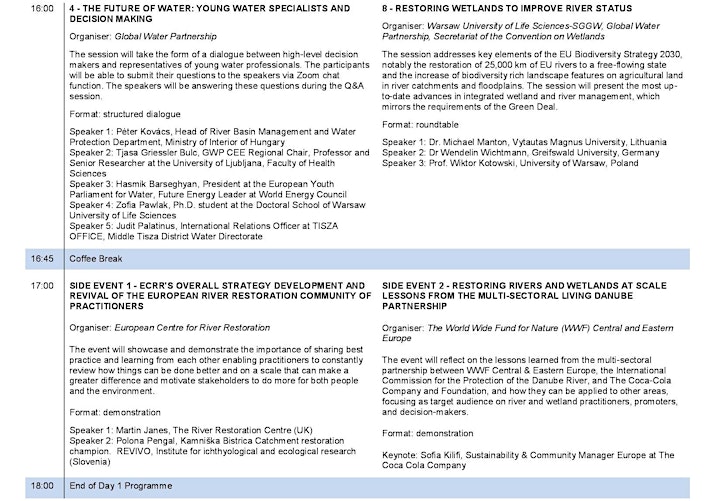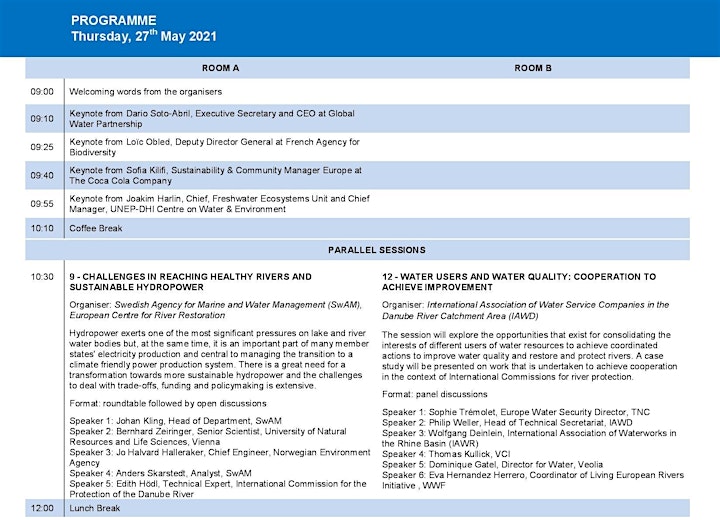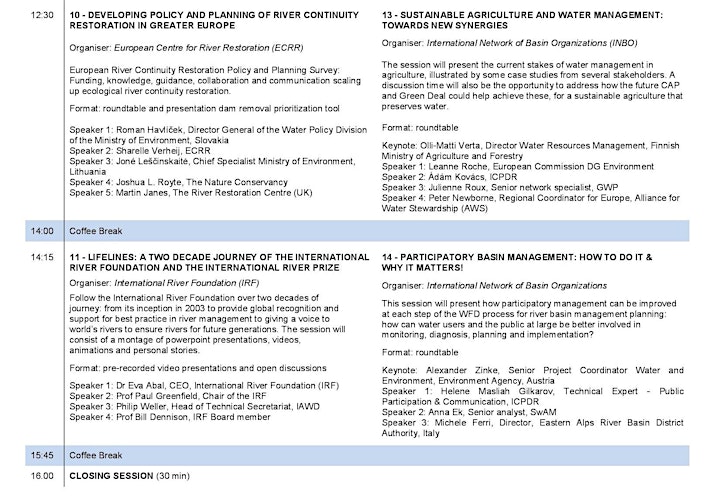 We are happy to announce the keynote speakers
Day 1
Virginijus Sinkevičius, the present Commissioner for the Environment, Oceans and Fisheries, at the European Commission
Steven Navon Schonberger, Regional Director for the World Bank Group's Sustainable Development Department for the Europe and Central Asia (ECA) region
Veronica Manfredi, Director for Quality of Life in DG Environment at the European Commission
Day 2
Darío Soto-Abril, Executive Secretary and Chief Executive Officer (CEO) of the Global Water Partnership.
Loïc Obled, Deputy Director General at French Agency for Biodiversity
Sofia Kilifi, Sustainability & Community Manager Europe at The Coca-Cola Company
Joakim Harlin, Chief, Freshwater Ecosystems Unit and Chief Manager, UNEP-DHI Centre on Water & Environment