What is it about? Rapid diagnosis of sepsis and superinfections
About this event
Biomedica presents the rapid diagnostic system, T2Dx, developed and designed by T2Biosystems. First, we would like to give you closer overview about the innovative T2MR technology, the only FDA-cleared technology, that can detect low levels of pathogens in whole blood and eliminates time- and labor - intensive steps.
We're looking forward to share with you experiences of studies as well as from clinical routine from the biggest hospital in Austria, the AKH.Furthermore, we're excited to be able to give a sneak peek to data that will be presented on ECCMID 2021, about patients with severe COVID-19 suffering from co-fungal and/or co-bacterial infections.We're going to provide you scientific data and discuss the outcome and benefits seen.
Register yourself for free to join the webinar and don´t miss the opportunity to exchange with international experts about the topics.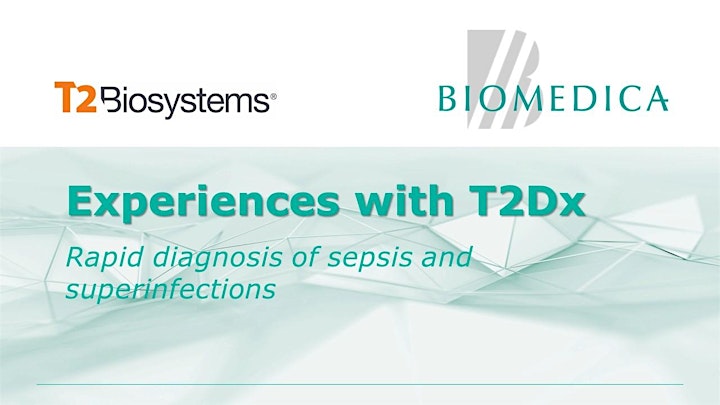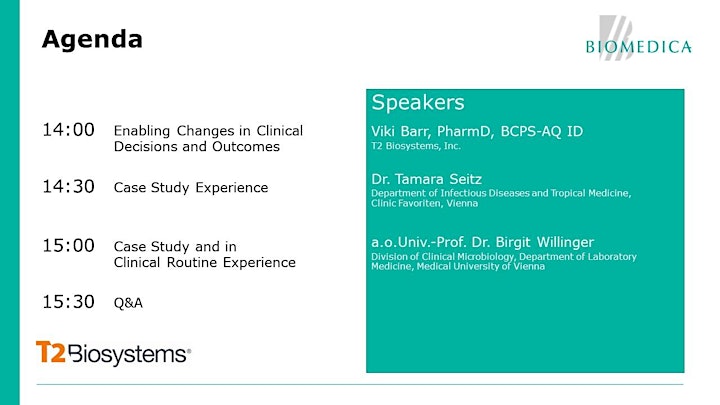 Organiser of Experiences with T2Dx
Biomedica provides a comprehensive product portfolio in the field of Antimicrobial Resistance.
Antimicrobial Resistance (AMR) is the ability of a microorganism (e.g. bacterium, fungus or parasite) to resist the action of an antimicrobial agent. The World Health Organization (WHO) has included AMR as one of the top ten threats to global health in 2019 (WHO 2019). Today, we live in a time when more and more diseases, including respiratory tract infections, sexually transmitted infections and urinary tract infections, do not respond to drug treatment and life-saving medical procedures are becoming much riskier due to the threat of untreatable infections. The selective pressure created by the broad use of antibiotics in agriculture, livestock, veterinary and human medical practices has contributed to the current antibiotic resistance crisis - the expansion of multidrug resistant organisms (MDROs) on a global level.
Addressing the rising threat of AMR requires therefore a multidisciplinary approach. One Health Strategy integrates human, veterinary, but also environmental, aquatic, and wildlife issues into current approaches. AMR is a global crisis. There is no time to wait.
Check out our Antibitic Resistance booth here: https://Biomedica-Antibiotic-Resistance