What can Europe learn from China? And China from Europe? - Digital Silk Road meets Unimpeded Trade and Investment
About this event
Digital Silk Road meets Unimpeded Trade and Investment
Unimpeded trade and investment is a major goal of the European Union and many countries along the Belt and Road, including China. However, EU FDI into China, and Chinese investment into the EU, have suffered setbacks as the EU-China Comprehensive Agreement on Investment (CAI) has stalled. CAI primarily favors greater market access to China for European companies in both services and manufacturing, [and has an entire chapter dedicated to sustainable development, a first for China.] Can CAI be re-activate?
Investment protection under CAI is still subject to EU-China negotiation. What guidance does the Romania-China BIT provide on the standards of investment protection European investors and companies can expect? What limitations exist under this BIT?
Is Romania an important BRI trading nation? Has Romania been successful in attracting Chinese FDI?
There have been some European concerns over Chinese investments in certain perceived sensitive sectors, notwithstanding the comparatively low levels of Chinese investment generally in the EU. Are such fears justified? What has been the experience of Chinese companies investing in the EU? What restrictions exist? What is it like to work with Chinese investors and partners doing business in the EU?
Find out the answers to these and other questions pertinent to EU-China trade and investment at the SILKROAD 4.0 event on 23rd September.
Panelists
🎤 Prof. Mircea Dumitru, Former Minister of Education and Scientific Research, Former Rector and Professor, University of Bucharest, Corresponding Fellow, Romanian Academy [Requested]
🎤 Prof. Shaowei He, Associate Professor in International Business, University of Northampton
🎤 Diana Moise, Debevoise & Plimpton LLP
🎤 Remote Location Partner (Zagreb): Prof. Kosjenka Dumancic, Vice-dean for international cooperation and projects at Faculty of Economics & Business Zagreb
🎤 In addition, our select SILKROAD 4.0 members will participate in the discussion.
See here for SILKROAD 4.0 members.
Join the interactive SILKROAD 4.0 expert discussion
An interactive event format that allows to meet and discuss with leading subject matter experts.
What can Europe learn from China - or China from Europe?
Since its launch in late 2013, China's Belt and Road Initiative has caused a lasting impact on the geopolitical dynamics of the world. China's international connectivity strategy fosters a more balanced, multi-centric world system on a mutual eye level, but leaves many question marks for Westerners. Even experts struggle to comprehend all facets of this strategy.
The SILKROAD 4.0 event series brings together leading experts within their fields, discussing what Europe can learn from China - and China from Europe.
Every event takes place in a different location along the Silk Road and changes focus topic every time.
Participants may actively participate in the discussions during the event.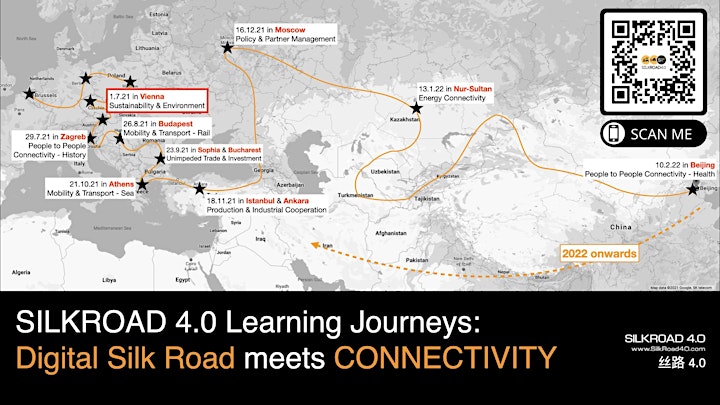 Organizer of Expert Q&A: Digital SilkRoad meets Unimpeded Trade and Investment
SILKROAD 4.0 organizes a continuous Learning Journey for Pioneers of the Digital Silk Road. Jointly we travel the world in order to learn more about the world around us.
Our events takes us from Europe to Asia and back. Every event takes place in another location, bringing together outstanding thought leaders.
Participants of the SILKROAD 4.0 VIP-circle are executives, diplomats, distinguished professors, or proven senior technology experts. Strictly by-invitation-only.
To learn more how to become a member of the SILKROAD 4.0 VIP group, see here.