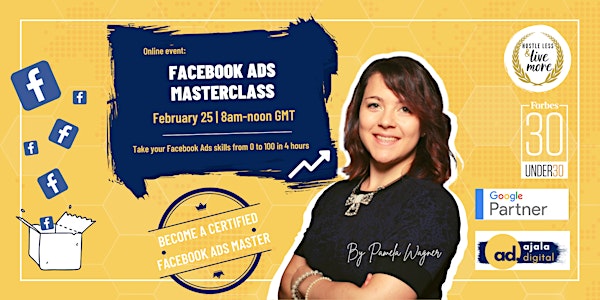 Facebook Ads Masterclass Feb '21
...take your Facebook Ads skills from 0 to 100 in 4 hours. <
About this event
...take your Facebook Ads skills from 0 to 100 in 4 hours.
"The class was a very enlightening experience! The fact that you can actually do the things that you hire a digital agency for...it's actually very possible to do them by yourself."
 - Michelle Baine, Roke Telkom
BECOME A CERTIFIED FACEBOOK ADS MASTER
Upgrade your social media marketing skills and learn from a Facebook and Google Ads specialist, what it takes to succeed with Facebook Ads. Having worked with 2000+ advertisers on Google, Facebook, YouTube, Instagram, and LinkedIn, the Forbes 30 Under 30 Honoree will work in a focused environment with the most ambitious and upcoming digital marketers in Ghana and beyond. 
You will:
Get to know insider tips & tricks for setting up successful Facebook ad campaigns (e.g. how one of our clients is frequently getting 500% ROI on her ad spend).
Create your first campaign in Facebook and immediately implement the tricks from the pros
Know the difference between simple post boosts and campaigns, and how to utilize them for success
Create and set up the Facebook pixel so you can use custom audiences more effectively
Get to know how you can track your success: what's needed to know the exact ROI of your digital advertising measures
Discover what you should know about the latest iOS14 update and how that impacts your campaigns/measurement.
Walk home with a professional Facebook Ad Campaign ready, as well as your Facebook Ads Master Certificate!
"Thank you so much Pam ! She was incredibly informative and knowledgeable about all things FB Marketing. [...] A+!"​
 - Javan Robinson
Requirements:
We've noticed that you as a participant have the best experience if you fulfill the following requirements:
Already worked in social media or digital marketing
If 1. is not given, have taken courses in digital marketing
Got your own laptop to work on, so you can follow and effectively participate in the workshop.
Included in the ticket price:
Workshop Access
Certificate
Networking with other participants
Lots of fun and success!
"I pitched the new things I learned about remarketing to my select current clients and picked up some more work as a result so thank you."
 - Cory Schop, Internet Marketer
You must have a laptop with a working mic/camera to be able to participate effectively the workshop. The session will be highly interactive, and you will create your own Facebook Ads campaign.