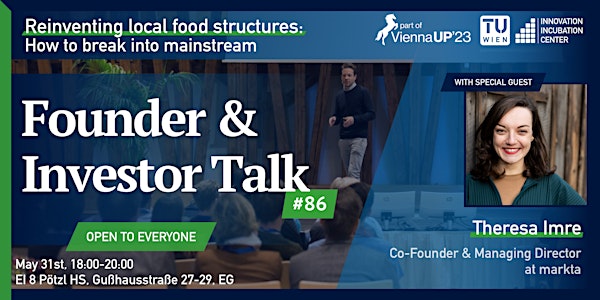 F&I #86 with Theresa Imre (Co-Founder and Managing Director of markta)
"Reinventing local food structures – how to break into mainstream"
By TU Wien Innovation Incubation Center (TUW i²c)
Date and time
Wednesday, May 31 · 6 - 8pm CEST
Location
EI 8 Pötzl Hörsaal (Raumcode: CD EG 08) Gußhausstraße 27 – 29 1040 Wien Austria
About this event
‎
Under the motto "from farm to fork", markta enables and empowers farmers to sell their products at fair prices, in a circular-economy-delivery model and last but not least, to connect with the final consumers. In her talk, Theresa will give insights into the development of our industrialized Agro-food system, as well as, her personal experience, founding and growing a holistic socio-ecologic enterprise in our mainstream economic start-up culture.
About the speaker
Theresa Imre grew up in the Austrian countryside, in the province of Styria. Not long after moving to Vienna for her university education, Theresa found and ran an award winning foodblog called "Eingebrockt und Ausgelöffelt,". Parallel to her master's studies in Socio-Ecological Economy and Policy at the Vienna University of Economics and Business, she started working on the concept markta. Today markta is a well-established online farmers' market with over 200 local producers, 20 employees and thousands of customers.
About the Founder & Investor Talks series
The Founder & Investor Talks, organized by the Innovation Incubation Center (i²c) at TU Wien, enable the audience to learn firsthand from experienced founders, investors and innovators, and get inspired by their success (and failure) stories. Our guest speakers share their international experiences, dos & don'ts and lessons learned during an inspiring talk. Afterwards, the participants can ask all the burning questions during an interactive Q&A.
After the session, the attendees have the opportunity to network and mingle wit like-minded people while enjoying some free drinks provided by TUW i²c.
About ViennaUP
This Founder & Investor talk is part of ViennaUP'23 a decentralized community-driven festival in the heart of Europe, shining a light on what the future of technology holds. Together with our contributing partners, we are building a unique interconnected experience for startups, investors, tech enthusiasts, creatives and visionaries.
Check out the full program here and create your ViennaUP journey according to your topic of interest.
ViennaUP'23 is about creating meaningful connections and starting first conversations with smart minds. Participants have the opportunity to dive into hotly discussed topics across different industries, expand their international network, and get inspired by the Viennese startup scene - one of the most diverse and fastest-growing startup communities in Central Europe.
We are looking forward to meeting you!
___________
About the organizer
https://i2c.tuwien.ac.at/