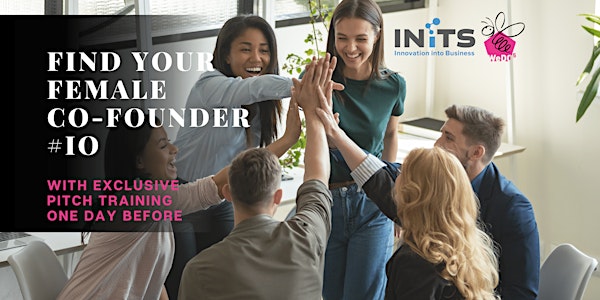 Find Your Female Co-Founder #10 - WeDO5 & INiTS
Female Co-Founders are the new gold! "The few Startups with Female founders raise more venture cash" Source: bloomberg.com
Zeit und Ort
Veranstaltungsort
INiTS Universitäres Gründerservice Wien GmbH Maria-Jacobi-Gasse 1, Media Quarter Marx 3.2, 1st floor 1030 Wien Austria
Karte und Wegbeschreibung
Rückerstattungsrichtlinie
Kontaktieren Sie den Veranstalter, um eine Rückerstattung anzufordern.
Zu diesem Event
4 Stunden

Mobile E-Tickets
Find Your Female Co-Founder #10 - WeDO5 & INiTS
Join us at the 10th edition of the Find Your Female Co-Founder in collaboration with INiTS, the number 1 High Tech Business Incubator in the DACH region. e
This is an opportunity to make the right connections, find Co-Founders, Team Members, Co-Workers, Investors.
We're also looking for talented and ambitious women who want to join an early-stage startup and make their mark. You'll have the opportunity to network with likeminded individuals and expand your network.
Attract female co-founders or workers and get started on building your dream team today.
Or: If you're ready to take the plunge into entrepreneurship, then this is the event for you.
Either way: Don't miss out and register today!
🗓️ DATE: 🗓️
TUESDAY, 14th Feb 2023 17:00- 21:00 Find Your Female Co-Founder Event Day
MONDAY., 13. Feb. 2023 15:00-18:00 - Pitch-Training Day -(OPTIONAL )-
***SIGN UP NOW via Eventbrite!***
🎟️ TICKET TYPES: 🎟️
1) "GUEST":
If you're passionate about startups and want to learn more, join us at this event! You'll have the opportunity to meet founders and hear their stories, learn about co-founder or opportunities for co-founders, team members, investors - or network with others.
2) "I-WANT-TO-PITCH":
If you are looking for a co-founder, team member, or investor, this is a great opportunity to find them. So please come and pitch your business idea! The price is €15,- or free for members with a discount code (see below).
After the registration send your 3 min pitch deck by Monday 6th Feb 2023 end of business to share@wedo5.io .
3) "PITCH-TRAINING":
Get prepared for the pitch next day! Practice makes perfect! Prepare by attending this workshop. The price is €30,- or free for members with a discount code (see below). The pitch training will be one day before at the same venue starting at 15.00h.
About INiTS
INiTS is Vienna's high-tech incubator and has developed into one of the best academic incubators worldwide since its foundation in 2002. With the SCALEup incubation program, the START:IP technology marketplace and STARTKapital of up to € 100,000, INiTS is focused on innovative research and technology-intensive startups.
With a special bonus of up to € 7.500 INiTS is supporting female founders or mixed teams as well as startups with clima-related topics which are accepted into the program. Learn more about these opportunities and apply at https://www.inits.at/en/scaleup/
🐝 ABOUT WeDO5 🐝-- COME CELEBRATE WITH US AND JOIN OUR EMPOWERING COMMUNITY!
WeDO5 is a community of female entrepreneurs passionate about making an impact.
HELP WOMEN THRIVE - We believe that when women prosper, society as a whole thrives. That's why we're committed to helping female impact startups succeed. With our support, they have the power to create real change in their communities and beyond.
BECOME A MEMBER TODAY - It's easy to become a member of WeDO5! Simply send an email to share@wedo5.io and we'll provide you with all the information you need to get started. You won't regret it!
WeDO5 Individual Membership 2023 - €55.00, Student Membership 2023 - €25.00
GET AN EXCLUSIVE DISCOUNT - Register now for the membership and get an exclusive discount to join this event for free! Take advantage of our limited-time offer!
TERMS OF PARTICIPATION AGREEMENT
By participating in the event, you grant WeDO5 permission to capture photos/videos of the event. By registering for a WeDO5 event, you agree to our Terms of Use and Privacy Policy. If you have questions please reach out to share@wedo5.io