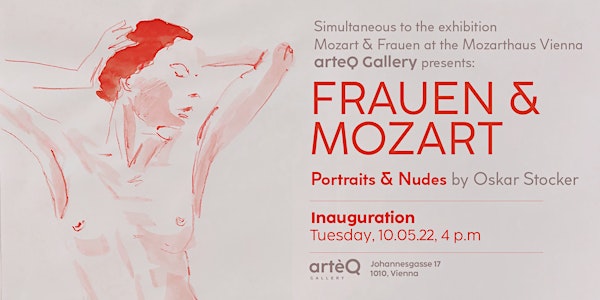 Frauen & Mozart | Portraits & Nudes by Oskar Stocker
The opening of the exhibition FRAUEN & MOZART, simultaneously with Mozarthaus Vienna.
When and where
Location
artèQ Gallery Johannesgasse 17 1010 Vienna Austria
About this event
We are delighted to invite you to the opening of the exhibition FRAUEN & MOZART, simultaneously with Mozarthaus Vienna on the 10th of May at 4 p.m. .
Unlike the portraits at the Mozarthaus, the exhibition's aesthetic reveals with a contemporary reference subtly on the limits of our perception and expressive characters in red.
A sensual gaze, a loving affection, is for the artist an omnipresent phenomenon that defines us as human beings.
Turning away from the clichéd, the similar and the iconic, the artist starts from the word origin of the portrait in his countless sketches of women: coming from the Latin pro-trahere, it means "to draw forth". He is concerned with the character of the opera role he focuses on.
The subtle play with the limits of our perception manifests itself in the paintings, portraits, of historical women from Mozart's environment. However, the artist portrays the initially familiar-looking images of well-known persons, such as the mother, Constanze, etc., with the help of a single model.
Regarding the artist:
Oskar Stocker(1956) lives and works in Graz and Vienna and is considered an outstanding portraitist. This is evidenced by the many pictures he has made since 2010 as part of the television program erLesen. He became internationally known through the exhibition Facing Nations, which showed more than 120 citizens of Graz of different nations in portraits, first in Graz, then in Vienna, and as a highlight in 2010 at the UN headquarters in New York.
Oskar Stocker loves Mozart's music and is a connoisseur of Mozart operas. It is obvious that Stocker artistically translates his view of Mozart's female characters. On display are 5 large portraits in oil on aluminum as well as portraits and nudes on paper and canvas.
A cheerful, buoyant atmosphere awaits you!
We are looking forward to seeing you there!
| We Connect Artists and Art Lovers |
| And We Love It |