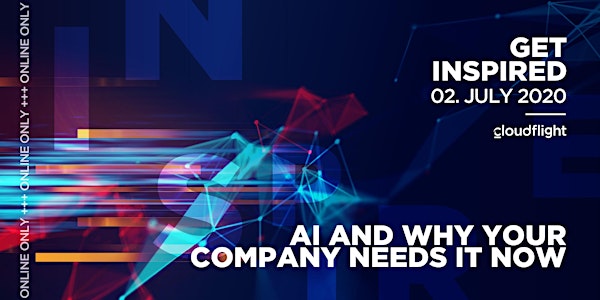 Get Inspired by Cloudflight - AI & why your company needs it now
This short webinar for decision makers briefly explains why AI applications have become an essential part of leading a company successfully
About this event
"Just as every company is now a software company, every business will soon become an AI business"* you hear more and more especially in the US. Of course, this also holds for Europe! Why you should prepare now and how, you will learn in our "Get Inspired online webinar AI & why your company needs it now".
Based on our experience with real customers, we help you to:
learn core AI concepts with demos
experience and prioritize the most suitable use cases for AI in your company
transform your business with industry best practices
provide you with an AI cheat sheet
We will also inspire you to accelerate your business with AI immediately.
In order to create an event of best value to you, we kindly ask you to share your painpoints and AI experience with us beforehand via our two-minute survey. We will gladly address all raised topics directly at the event.
Our event will be held in English, but we do speak German and many other languages, too.
Please use the following link for your participation:
https://cloudflight.zoom.us/j/96654480886?pwd=REtES3Q3K0loZDBvTkFwS3RoVzRXdz09
We are looking forward to your participation!
PS: Once a month, we are sending out our newsletter with valuable research content. We would be happy if you would be interested in receiving our content by simply signing up here.
*David Carmona