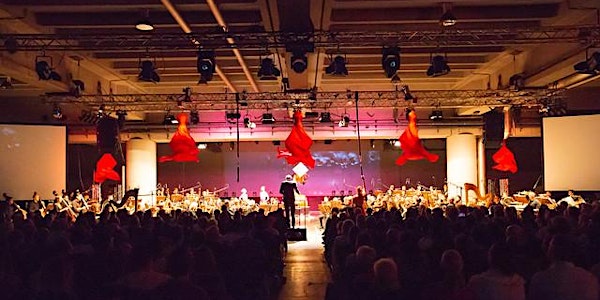 Große Konzertnacht / Big Concert Night
When and where
Location
POSTCITY Bahnhofplatz 12 Gleishalle / Trainhall 4020 Linz Austria
Refund Policy
Refunds up to 7 days before event
Description
Big Concert Night of the Ars Electronica Festival

Festival Ars Electronica 2019
The Big Concert Night´s program consist of extraordinary artistic experiments ranging from classical orchestral music to industrial noise and granular synthesis, world premieres of works by up-and -coming young composers as well as masterpieces of the 20th century avant-garde. The orchestral concerts are combined with performances by digital composers and musicians. All pieces are accompanied by artistic visualizations. Once again this year, the location include the Train Hall of the former Postal Service logistic facility, a visually as well as acoustically amazing setting that brings out the best of sounds across the stylistic spectrum.
The Bruckner Orchestra Linz will once again be performing an impressive musical concert this year under the baton of chief conductor Markus Poschner. Framed by machines, robots, digital projections and other digital music artists, the Big Concert Night 2019 will be an unparalleled experience.
The detailed program will be announced soon.
The ticket for the Big Concert Nightline gives you access to the Big Concert Night and the POSTCITY Nightline.


---
Big Concert Night 2018:
https://www.youtube.com/watch?v=fVAcKG9kdjM
---
---
---


Große Konzertnacht des Ars Electronica Festival
Festival Ars Electronica 2019
Das Programm der Großen Konzertnacht besteht aus außergewöhnlichen Experimenten, die von klassischer Orchestermusik über Industrierauschen und granulare Synthese bis hin zur Uraufführung von Werken junger Nachwuchskomponisten und Meisterwerken der Avantgarde des 20. Jahrhunderts reichen. Die Orchesterkonzerte werden mit Auftritten von digitalen Komponisten und Musikern kombiniert. Alle Stücke werden von künstlerischen Visualisierungen begleitet. Auch in diesem Jahr gehört die Gleishalle des ehemaligen Postverteilerzentrums dazu, ein optisch wie akustisch erstaunlicher Rahmen, der das Beste aus den Klängen des gesamten stilistischen Spektrums herausholt.
Das Bruckner Orchester Linz wird auch heuer wieder unter Chefdirigent Markus Poschner eine beeindruckende musikalische Performance liefern. Umrahmt von Maschinen, Robotern, digitalen Projektionen und weiteren digitalen Musikkünstlern wird die Große Konzertnacht 2019 ein Erlebnis sondergleichen.
Das detaillierte Programm wird noch bekanntgegeben.
Das Ticket für die Große Konzertnacht bietet Ihnen sowohl Zutritt zur Großen Konzertnacht als auch zur Ars Electronica Nightline.
---
---
---
---
---
---
Tickets now available!

FESTIVAL ARS ELECTRONICA 2019
Discounts
Discount available for youngsters attending school, apprentices, college students (under age 26), children and teenagers under the age of 19 (born after September 2000), seniors (age 65 and over), Austrian men performing mandatory military service or alternative civil service, people with handicaps, members/holders of Aktivpass Linz, European Youth Card, LINZ KULTURCARD 365, OÖ Familienkarte (parents or grandparents accompanied by at least one registered child) and OÖNcard, members of Alumniverein Forum-Kunstuniversität Linz, OÖ Presseclub, Ö1 Club and Die Presse Club.
Only one discount can be applied to each ticket.
Free Admission for holders of a Kulturpass "Hunger auf Kunst und Kultur" as well as for the accompanying person of people with assistance needs.
---
Ermäßigungen
Ermäßigungen für SchülerInnen, Lehrlinge, Studierende (bis 26 Jahre), für Kinder und Jugendliche bis zum vollendeten 19. Lebensjahr (geboren ab September 2000), SeniorInnen (ab 65 Jahre), Zivil- und Präsenzdiener, Menschen mit Beeinträchtigung, Aktivpass Linz-InhaberInnen, InhaberInnen einer European Youth Card oder LINZ KULTURCARD 365, OÖ Familienkarte (Elternteile oder Großeltern in Begleitung von mindestens einem eingetragenen Kind) und OÖNcard, Mitglieder des Alumniverein Forum-Kunstuniversität Linz, OÖ Presseclub, Ö1 Club und Die Presse Club.

Pro Karte kann nur eine Ermäßigung in Anspruch genommen werden.
Freier Eintritt für InhaberInnen des Kulturpasses "Hunger auf Kunst und Kultur" sowie für die Begleitperson von Menschen mit Assistenzbedarf.
---
---
---
---
---
---


Photo showing: Tour en l'air by Ursula Neugebauer (DE)
at the Big Concert Night 2018, POSTCITY, Train Hall
Credit: tom mesic
FAQs
How can I get in contact with Ars Electronica?
tickets@ars.electronica.art