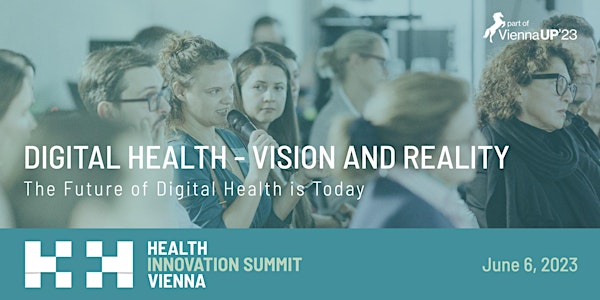 Health Innovation Summit Vienna
Health Innovation Summit is the European event about transforming the healthcare system through innovation and entrepreneurship.
Date and time
Tuesday, June 6 · 9am - 9pm CEST
Location
Erste Campus 1 Am Belvedere 1100 Vienna Austria
About this event
As we have seen through almost three years of the pandemic, digital health is not an option anymore - it's a necessity. But our healthcare systems have been historically grown and often cannot keep up with the speed of technological development, although the benefits might be obvious. So we have to join forces make change happen - to achieve better care with lower effort.
The goal of the Health Innovation Summit Vienna is to show what's possible, inspire, to motivate and to initiate collaborations, according toour mission of transforming the healthcare system through Innovation, Collaboration and Entrepreneurship.
At the summit, we will bring together leading healthcare professionals, entrepreneurs and innovative minds to discuss and to explore new ways of improving digital health. We will discuss current challenges and opportunities, explore innovative ideas and develop new approaches to tackling healthcare's toughest problems. We will talk about how to use the technology and create new solutions that make our healthcare system more efficient, while at the same time providing better patient care.
What is it?​
The leading event about transforming the healthcare system through innovation, collaboration and entrepreneurship
Discussing the status of digital health in the center of Europe
Showcasing best practices and international case studies
Inviting European ecosystem players
Deriving inspiration for the further development of the digital health ecosystem
Where is it?
The Health Innovation Summit will take place in Vienna at the 6th of June and is part of the Vienna UP´23 Festival.
ViennaUP is a decentralized community-driven festival in the heart of Europe, shining a light on what the future of technology holds for startups, investors, tech enthusiasts, creatives and visionaries.
Our event location is part of the Erste Campus, in the vibrant new "Quartier Belvedere" district between the main train station, the Schweizer Garten and Belvedere Castle. A bridge between the old and the young Vienna.
What to expect?
Inspiring Keynotes
"TechInfusions" - short presentations of cutting-edge technologies and innovations
In-depth panel discussions
10+ Exhibitors of exciting new solutions
Numerous opportunities to network, to exchange experiences and to initiate collaborations
Who is it for?
Innovators in health & life sciences
Entrepreneurs and executives of bio-, health-, medtech and pharma 
Scientists, CSO's, CMO's and medical doctors
Healthcare professionals
Innovation Managers
Key decision makers in public and private healthcare
Representatives of health insurance organisations and health funds
Patient advocates
Tech transfer managers
Investors
The Program
Why you should attend
Attending the Health Innovation Summit is a great opportunity to network with industry leaders, government officials, and healthcare professionals from across Europe. You'll gain valuable insights into the latest developments in digital health, and learn about innovative solutions to some of the most pressing challenges in the healthcare industry. In addition, you'll have the chance to hear from inspiring keynote speakers, participate in interactive workshops, and attend networking opportunities.
Be sure to join us for a day of inspiration, learning and collaboration at the Health Innovation Summit!
Important Note according to data privacy:
By participating, you agree to the publication of photos and video recordings made during the event.
About the organizer
Health Hub Vienna is a platform for open innovation in healthcare. Pharmaceutical companies, medical device manufacturers, private and public insurance companies, healthcare suppliers and start-ups all work together to develop new, holistic and patient-centric solutions.