Learn simple and suitable tools that will help you create a life you love and enjoy in less than 3 months. Discover 3 secrets to happiness.
About this event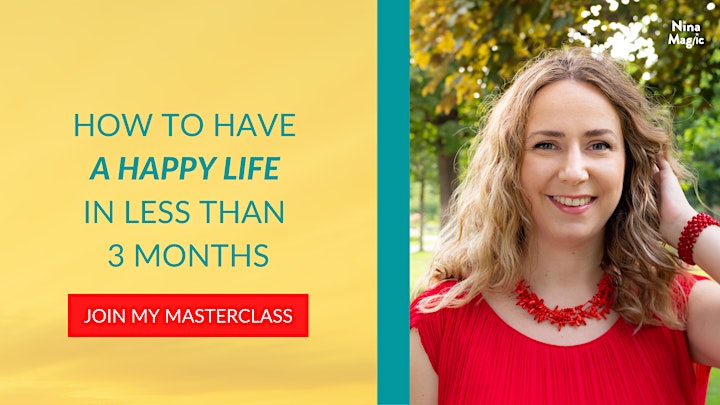 You are already doing some self-development work but don't see results?
Does your life feel like a rollercoaster with very high highs and very steep and low rock bottoms?
Your life is already good but you want it to be even happier?
YOUR HAPPINESS IS THE MOST IMPORTANT THING IN YOUR LIFE!
I'm sure you don't want to put it off any longer - That's why we are doing this live training!
I WANT YOU TO ASK YOURSELF A POWERFUL QUESTION...
What would you do in about 3 months from now if you woke up energized and happy living the life you truly love and enjoy?
Would you... take action to create the life you've been dreaming about?
I WANT THIS FOR YOU!
At the webinar you'll learn:
1. How do your childhood wounds prevent you to be happy?
2. How energy healing helps you release anger, frustration, stress, shame and guilt with ease and grace?
3. You'll be shocked when I show you how you can release limiting beliefs within seconds.
If you are finally ready to take control over your life and have a life that sparks joy and happiness, then register for free below.
PRESENTER BIO:
A world-leading energy healer, Nina Maglic, helps you create a life you love and enjoy with ease and grace. Nina has helped thousands of people to improve their life using energy. She gives regular speeches at global summits, and trains top executives and leaders to step into confidence and personal power and live the life beyond their wildest dreams.
TESTIMONIALS:
"Nina your events truly changed my mindset and it truly helped me let go of things I didn't even know I was holding on to!! I want to encourage EVERYONE to give it a try! Even if you think you don't need it…trust me it's TOTALLY worth it! Nina is INCREDIBLE and her energy healing sessions are life-changing!! Love you Nina and thank you for EVERYTHING! ❤️❤️❤️"
Amanda A., USA
"Nina has been a God-sent to me and my life - she's been an incredibly dedicated and professional coach. I see the energy shifts in my life already and also I appreciate how prompt and dedicated she is towards me on my journey. Her advice and ability to truly use and utilize the tools she taught me means the world to me and truly change my life for the better. I wish I discovered Nina sooner - everyone can benefit from the program - don't wait and book yourself a call with her! "
Karolina R., USA
"I'm so grateful you have given me back my life! You are truly a gift from God and you fell into my life. One that I'm truly grateful for so thank you so much!! Not only were you able to intuit my blocks and patterns that I have been blinding me my whole life but you were able to help me see the truth. You were also able to show me how to clear and shift my energy in a way I could relate to. Thank you for also helping me fill in with a more positive mindset. It's so awesome to me that we haven't even met but you were able to pick up on things that no one else knows. Thank you for your beautiful gift. Thank you for helping me to clear this stuff I was running in my life so I can move forward with more confidence and ease. I'm so grateful you have given me back my life!"
Susan W., USA