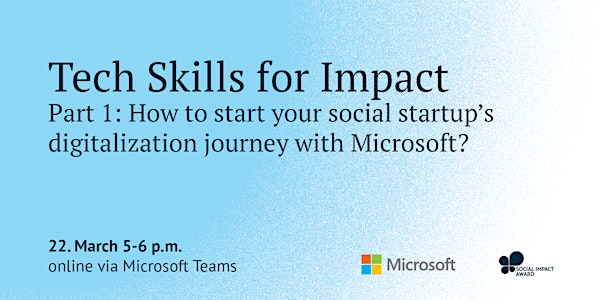 How to start your social startup's digitalization journey with Microsoft?
Digital tools are used by almost any startup - whether it is utilizing Microsoft Office, online data storage or team collaboration tools.
About this event
Digital tools are used by almost any startup - whether it is utilizing Microsoft Office, AI or other team collaboration tools - they all are based on cloud computing technology. So in this webinar you will learn how digitalization is actually essential to achieving your impact mission and to implementing your projects more efficiently.
Learn from hands-on experiences of a startup which already participates in the Microsoft for Startup Program. They will share in a practical way how they have based their work on digitalization and which decisions they took along their growth progress. This will help you understand how Microsoft's solutions can also support your impact journey from the beginning. After the interactive session, you will have time to ask questions and exchange with other participants.
Gather new tech skills and join us on the journey to a digitalized future with deeper social impact.
Tech Skills for Impact Series:
This webinar is part of the "Tech Skills for Impact" Series brought to you by Social Impact Award and Microsoft. They have joined forces to support social entrepreneurs in their digital skilling journey. In three webinars you will learn how to be digitally and ecologically sustainable with your venture, how cloud computing can improve your workflow and you will find out how to make sense of your data and measure your impact. The webinars will be hosted by SIA and Microsoft and facilitated by Microsoft experts from the respective fields.
Technology and digitization are driving factors for a sustainable future so gaining new tech skills should be an essential goal for all social entrepreneurs.
_________________________________________________________
Microsoft Expert: Tamara Tomanic - Sr. Partner Development Manager
Tamara joined Microsoft in 2017 as a Solution Sales Professional for Microsoft Azure, where she advised Austrian Enterprise customers on their digital transformation & the benefits of using Cloud technologies. After three years in role she transitioned into the Azure Business Group Lead role, owning the end-to-end accountability for the Azure business in Austria (strategy, planning, execution). In her current role, Tamara drives joint activities with Global Systems Integrators to accelerate Cloud adoption at Austrian companies.
Pascal Gabrielli - Project Manager Microsoft for Startups
Pascal Gabrielli joined Microsoft in 2021 as head of the Microsoft for Startup Program Austria, prior to this chapter he worked in the PCB (Printed Circuit Board) industry in Switzerland and America. His focus is to help B2B and B2C startups scale by engaging them in an ecosystem of Microsoft teams, partners customers and investors. His aim is to help people, who are building incredible things, to become the leading companies of tomorrow.