Dieses Event ist beendet.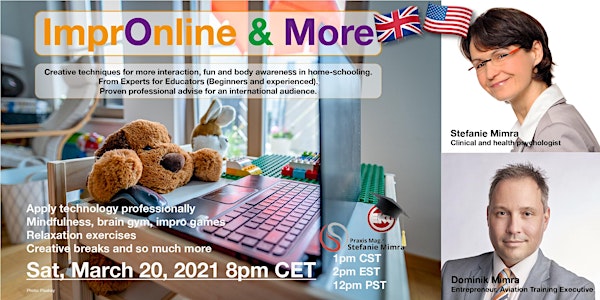 ImprOnline & More - creative techniques in home-schooling (English)
This webinar by two experts introduces and explains creative techniques for more interaction, fun and body awareness in home-schooling.
Rückerstattungsrichtlinie
Rückerstattungen bis zu 1 Tag vor dem Event
Zu diesem Event
Online teaching is more stressful than face-to-face teaching for everyone involved. Therefore, creative solutions are needed that motivate, inspire, ground and center.
We make use of technical possibilities that ZOOM offers us. In this online workshop, Dominik Mimra will provide you with technical know-how on the basic functions of Zoom, setup, drawing tools, online games, and much more.
Stefanie Mimra will show you what is possible with the individual tools in the classroom, among other things, for group formation and how you can integrate mindfulness exercises, loosening up exercises and games from improvisational theater.
In the meantime, you will have the opportunity to choose between two virtual rooms to get your questions about the technology answered on the one hand and to practice creative tools on the other.
This webinar will be held in English and is specifically designed for an international audience.
Lecturers:
Stefanie Mimra
Clinical and health psychologist
Trainer for mindfulness and improvisational theater
Speaker in training and further education and for workplace health promotion in the public sector
Book author, language designer and webinarian
Dominik Mimra MBA
Entrepreneur and Executive Consultant
Expert for Aviation personnel training
CRM-Instructor (EASA/FAA)
Human Factor Examiner (EASA/IATA)