This is an space to get in dialogue – this time about COURAGE. We will share and discuss stories, good practices and learn from each other.
Zu diesem Event
Some days ago, I had a wonderful conversation with some colleagues, whom I had not seen for over a year. It was funny, caring, interesting and almost therapeutical. We talked about topics I have not touched for a long time.
With whom are you currently in dialogue?
It seems that with the pandemic we reduced our social contacts. Often, we stay within our families and connect with a few close friends. We talk a lot about Corona, health, and food. We dream of travelling and free movement.
Alp would like to offer a space to get in dialogue – you with us, you with people from different countries and even different continents, you with people from different professions and backgrounds.
We would like to talk with you about topics which are dear to us - about aspects of leadership, authenticity, how to create connections, some theories we like and how we incorporate these in our lives. We provide you with a little input, share good practices and discuss with you about our common experiences. We want to meet you around a virtual campfire, where we share stories and experiences and learn from each other.
Sign up here for our first "in DIALOGUE about COURAGE" event.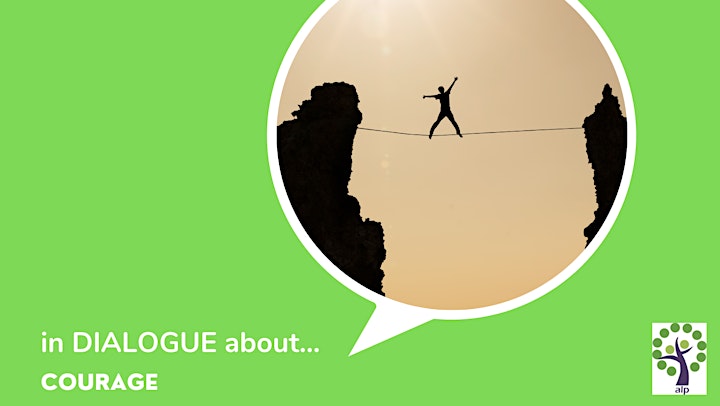 Datum und Uhrzeit
Veranstaltungsort
Veranstalter von In DIALOGUE about courage
alp is a network of professionals who are passionated about leadership and learning. alp members combine academic and practitioners backgrounds and experiences in the field of education, personal and organisational development from all over the world. alp brings together different perspectives and approaches in order to contribute to leadership development.
alp members work in international contexts, sharing new research in the latest leadership models and theories building on the individual strengths and supporting relationship based approaches.