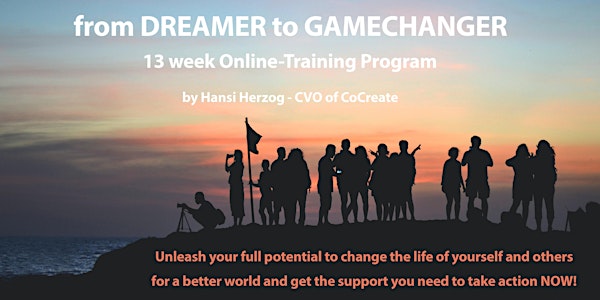 Info-Call: from DREAMER to GAMECHANGER
Info-Call to clarify details and questions to the Online-Training-Program "from DREAMER to GAMECHANGER"
About this event
Do you want to create a better life for Yourself and Your community?
Do you want to earn a good living, doing what You love?
Did you have problems in the past, doing this?
Then join our Online-Training to learn how you can change the life of yourself and others for a better world and get the support you need to take action NOW!
All information at: www.globalcocreationchallenge.net/training-dreamer-to-gamechanger
---------------------------
In this Info-Call you will get a first impression of what it means to become a GAMECHANGER and how this Training will empower you to realize your dreamlife and a better world for all of us.
It's your chance to get in contact with Trainer Hansi Herzog and to get all informations you need to make your decision!
Content for the 1-1,5h Call:
- short exercise from the Training Program
- Intro to the Program
- Questions & Answers Session
Please register, we will send you the Zoom-Link via Email,
looking forward to see you soon.
Hansi Herzog