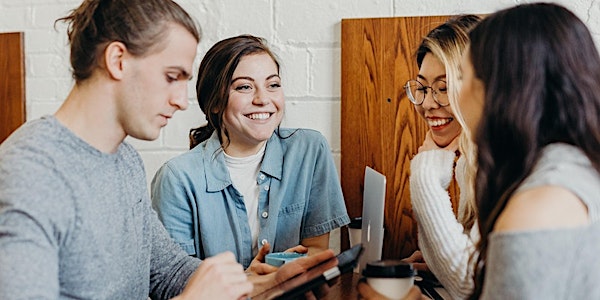 Info Webinar: Become a Junior Software Developer (Java Advanced Course)
Register for an info webinar for the Java Advanced programme organized by everyone codes. (Basic programming knowledge required)
About this event
About this programme
everyone codes is a programming school for everyone. Regardless of origin, age or gender, we want to equip people with the necessary digital skills to work as software developers and lead a self-determined life. Our mission is to enable people to enter a better professional future through programming. We achieve this by combining innovative learning methods with lots of hands-on applied problems, thus preparing our participants in the best possible way for the challenges they may face in their future workplace.
The full-time Java Advanced education programme consists of six months of extended basic knowledge of Java with focus on back-end specialisation rounded out with a hands-on team project, priceless development know-hows, best practices, teamwork and soft-skills combined with innovative learning methods from day one.
Who is this programme for?
Please only register for the info-webinar if you fulfil all the criteria below. This programme is for you if you:
Have a valid working permit in Austria
Are registered as arbeitslos at AMS Wien
Have basic knowledge in and experience with coding in Java (Classes, Object-Oriented Programming, Automated Testing, Reading/Writing Files, Interfaces, Inheritance)
Are at least 18 years of age by the start of the programme
Have at least intermediate English and German skills
Are highly motivated and open to learning in a unique learning environment
Are available for 40h/week for the duration of the programme
Are ready to start working in the IT-field in Austria in 2023
Get through the application process for the programme
When?
Start of the programme: 30th of January, 2023
End of the programme: 28th of July, 2023
Start of the application process: 2nd of December, 2023
Important
To be eligible for this full-time programme you have to be registered at AMS Wien as "arbeitslos". This programme is funded by AMS Wien. Unfortunately, we cannot accept anyone who does not fulfil this criterion.
If you have not informed your AMS consultant about your interest in this programme yet, please make sure to talk to them and provide them with the following identification number of the course: TAS 785660.
Participation in the info webinar is part of the application process and therefore MANDATORY stepping stone to the programme.
Please note that by filling out this form you are only registering for the info webinar. If you are interested in participating in the programme after the info webinar, you will apply separately. All information about the application process will be provided at the info webinar.
If you cannot participate but would like to receive more information from us send us an e-mail to apply.vienna@everyonecodes.io.
Sign up for this info webinar
Click on the "Register" button to sign up for the online info webinar hosted by everyone codes regarding the next full-time Java Advanced programme.
Prior to the webinar, you will receive an e-mail containing the invitation link to the info webinar. (Please make sure to monitor your spam folder so that you receive the link to the event from us.)
We look forward to meeting you!
everyone codes