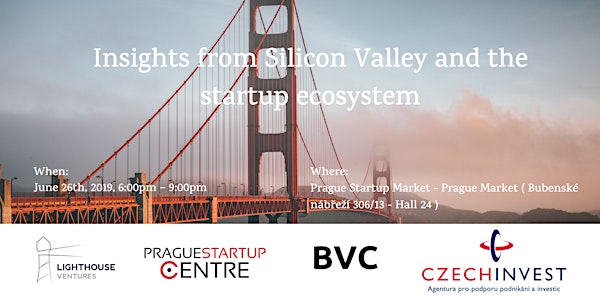 Insights from Silicon Valley and the startup ecosystem
Event Information
Location
Prague StartUp Market
Bubenské nábřeží
170 00 Praha 7
Czechia
Description
Lighthouse Ventures and Prague Startup Centre invite you to special TECH TALK with Miro Tenkl, representative of CzechInvest in Silicon Valley, who will help with understanding the current stage of Silicon Valley and answer, among others, the following questions:
What should you know and prepare before your journey to Silicon Valley?

Mentors, advisors or workshops? - How to choose the right ones for your successful journey in Silicon Valley?

Is there a preferable stage for international companies to come to Silicon Valley?

Does it make sense for my company to get into Y-Combinator and other accelerators?

Can you do big enterprise sales as a foreign founder?

When is the right time to sell my company to one of the big giants?

What takes to succeed in Silicon Valley?
Also new VC fund Lighthouse Ventures will be presented at the event.
Lighthouse Ventures is an early-stage and acceleration venture capital firm, focused on technology projects with global vision. Get to know more about new Lighthouse Accelerator! The initial investment is up to EUR 200,000 per startup, with follow-on investment up to EUR 1,000,000 available for the best performing startups. On top of funding, Lighthouse Accelerator provides workshops, access to network of experts and connection with potential customers and partners.
When: June 26th, 2019, 6:00pm – 9:00pm
Where: Prague Startup Market - Prague Market ( Bubenské nábřeží 306/13 - Hall 24 )
AGENDA
6:00 - 6:30 - Networking and registration
6:30 - 6:45 - Introducing Lighthouse Ventures, a newly established early-stage investment fund and Lighthouse Accelerator - Michal Zalesak
6:45 - 7:45 - Insights from Silicon Valley and the startup ecosystem - Miro Tenkl
7:45 - 8:15 - Q&A
8:15 - 9:00 - Networking
The entire event will be held in ENGLISH!
SPEAKERS
Director of West Coast Operations at Czechinvest
Miro Tenkl is a San Francisco-based representative of CzechInvest for the US West Coast. Among others, Miro's mission is to support Czech tech companies coming into Silicon Valley within CzechDemo, CzechAccelerator, CzechMatch and CzechStarter programmes by providing them with hand-on orientation/introduction into the local business ecosystem, and its key stakeholders such as accelerators, venture investors, mentors, corporations or other emerging businesses from all around the world. During the past three years, Miro has collaborated with around 60 Czech innovative startups.
Founder of Prague Startup Center and Managing Partner at Lighthouse Ventures
Michal Zálešák is an experienced startup investor and mentor with international investment experience in Silicon Valley, India and Czech Republic, and including exits to global players. Zálešák has established a Czech ICT Incubator at the Silicon Valley, bringing Czech startups to the Silicon Valley and global mentors to Prague. In 2005, Zalesak established the Czech ICT Alliance, working closely with Czech IT companies and organizing dozens of IT-focused trade missions globally to support expansion of Czech IT to international markets. In 2016, Zálešák established the Prague Startup Centre, operating two branches in Prague and having its own incubation program, targeting early stage startups. Zálešák is a Managing Partner in Lighthouse Ventures since its establishment in 2019.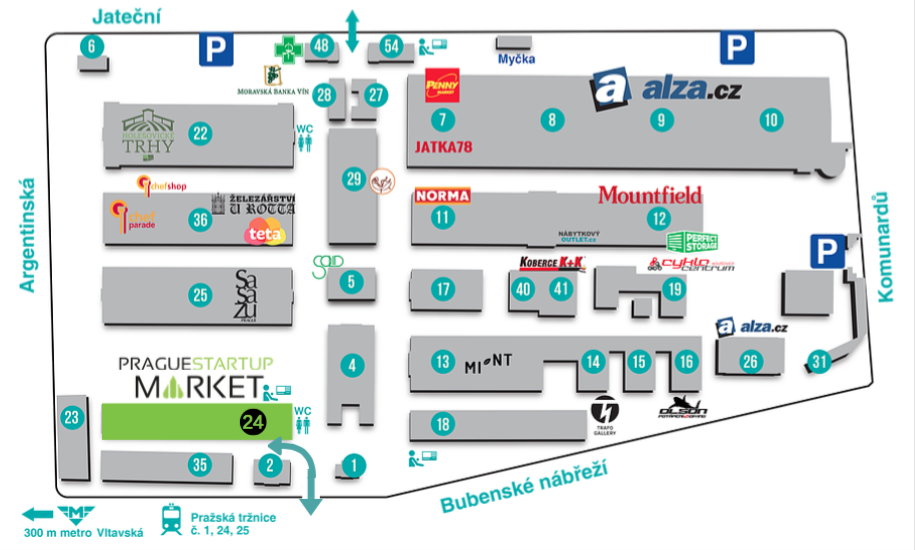 Date and time
Location
Prague StartUp Market
Bubenské nábřeží
170 00 Praha 7
Czechia