What can Europe learn from China. And China from Europe? Digital Silk Road meets Mobility & Transport - Rail
About this event
Join the interactive SILKROAD 4.0 expert discussion
An interactive event that allows to meet and discuss with leading subject matter experts.
What can Europe learn from China - or China from Europe?
Since its launch in late 2013, China's Belt and Road Initiative has caused a lasting impact on the geopolitical dynamics of the world. China's international connectivity strategy fosters a more balanced, multi-centric world system on a mutual eye level, but leaves many question marks for Westerners. Even experts struggle to comprehend all facets of this strategy.
The SILKROAD 4.0 event series brings together leading experts within their fields, discussing what Europe can learn from China - and China from Europe.
Every event takes place in a different location along the Silk Road and changes focus topics. The upcoming event is located in Budapest, Hungary discussing the topics of mobility & transport with a special focus on rail.
Participants may actively participate in the discussions during the event.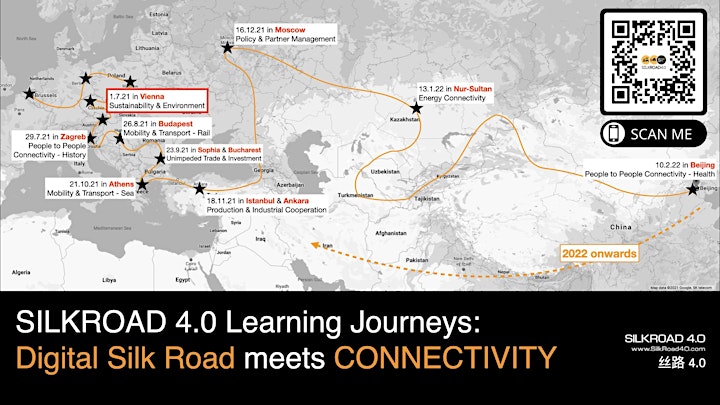 Digital Silk Road meets Mobility & Transport - Rail
Mobility & Transport are undergoing epochal transformative change and development, including with the advent of digital and green mobility across Europe and in China. In Europe, the Trans-European Transport Network (TEN-T) provides the blueprints for the future of intelligent, integrated transport across all modes as well as inter-modality. At the same time, the land-based Silk Roads are rapidly interconnecting the EU – primarily via railways – with the rest of Eurasia. Hungary is emerging as a key logistics hub in the EU and with respect to transcontinental Silk Road rail transport. However, different systems, organizations, rules, and technical standards must be harmonized if free movement of goods and people across Eurasia is to be achieved.
Panelists
🎤 Peter Kovacs, Co-Founder, www.globalstartupawards.com
🎤 Dr. Arne Gobert, Managing Director DialogUngarn Nonprofit, President German Business Club, Hungary
🎤 Zoltán Fábián, Managing Director, Mahart Container Center Ltd.
🎤 Prof. Andreas Breinbauer, Director of the FH Programme Logistics and Transport Management, Rector (FH) of Univ. of applied Sciences BFI Vienna
🎤 Dr. Mario Holzner, Executive Director at Vienna Institute for International Economic Studies
🎤 Bernhard Ebner, Member of the Management Board / Head of Business Unit Intermodal Rail Cargo Group
🎤 In addition, our select SILKROAD 4.0 members will participate in the discussion.
See here for SILKROAD 4.0 members.
Organizer of Interactive Expert Panel: Digital SilkRoad meets Mobility & Transport: Rail
SILKROAD 4.0 organizes a continuous Learning Journey for Pioneers of the Digital Silk Road. Jointly we travel the world in order to learn more about the world around us.
Our events takes us from Europe to Asia and back. Every event takes place in another location, bringing together outstanding thought leaders.
Participants of the SILKROAD 4.0 VIP-circle are executives, diplomats, distinguished professors, or proven senior technology experts. Strictly by-invitation-only.
To learn more how to become a member of the SILKROAD 4.0 VIP group, see here.