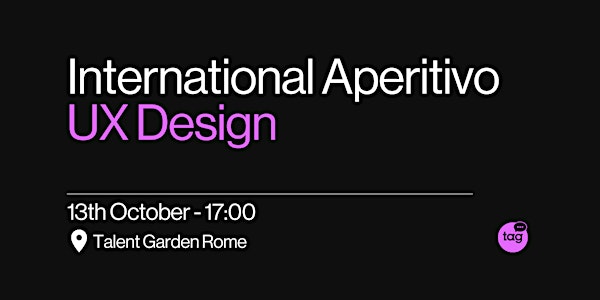 International networking UX Design Aperitivo
An event for UX Design Experts to connect with professionals from Madrid, Barcelona, Rome, Milan and network with the Roman community!
When and where
Location
Talent Garden Ostiense 92 Via Ostiense 00154 Roma Italy
About this event
We're inviting the local and vibrant UX design community to our campus to connect, from Talent Garden Rome with other UX Design experts connected from different Talent Garden Campuses around Europe (Rome, Madrid, Barcelona, Vienna and Milan).
Talent Garden has wide experience in training programs focused on UX and UI. In this event, we aim to connect junior or senior UX Designers who are either enrolled in Talent Garden programs or have a running business there. Also, all the professionals or passionate about UX who wish to take advantage of this opportunity.
At the beginning of the event, we will have the chance to listen to different speakers from all the locations with a 1-minute pitch. Afterwards, the attendees of each campus will enjoy an on-site networking aperitivo.
If your match is abroad, don't worry! We will facilitate the connections between all the attendees, no matter where they are!
Discover new possible partners in the UX Design Business!
All the guests will interact online with other freelancers, startups and scale-up based abroad and set 1:1 meetings afterwards. In addition to this, they'll enjoy some food and drinks together with insightful conversations with other UX Designers based in Rome.
Takeaways
Make international contacts in the UX Design industry.
Enjoy on-site networking with other UX Design experts.
We will facilitate the connections between the speakers and the attendees after the event.
Agenda
17:00 - Welcome
17:05 - Pitching (5 speakers per location)
17:45 - Networking Aperitivo
18:30 - Goodbye